CORDED USB KEYBOARD & MOUSE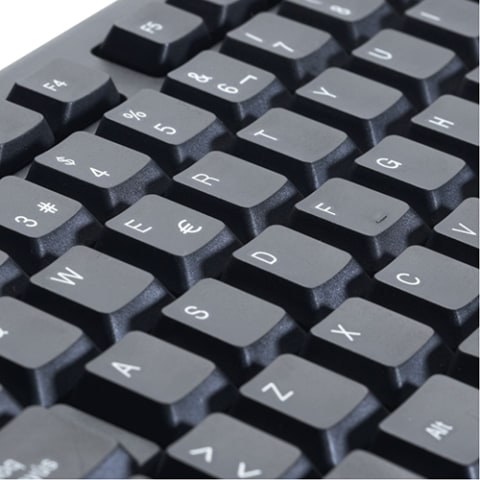 Corded vs. Wireless vs. Bluetooth
Corded
Traditionally, keyboards have had a cable that connects the keyboard to the computer using a USB port, hence a corded keyboard, and using a corded keyboard has its advantages. Being connected means you're free from lag and interference issues, and you don't have to worry about changing batteries or charging your keyboard, as the keyboard draws power from the computer. However, you are limited by how long the cord is, and the extra clutter of a cable may bother you. If your computer has limited USB ports, using one for a keyboard may be a concern, and you may want to consider a wireless option
Wireless
Wireless keyboards are either receiver-based or Bluetooth-based. Receiver-based keyboards connect to the computer via a nano receiver that plugs into a USB port. Without cords, you are free to position the keyboard where it is comfortable for you. Typically, wireless keyboards operate on a 2.4GHz connection, meaning there is virtually no lag. However, if you need to be completely lag-free, e.g. you're a serious gamer, you may want to consider a corded keyboard to eliminate lag altogether. There is also the chance for interference, as many other devices operate on a 2.4GHz connection. Another consideration is battery life; as wireless keyboards don't pull power from the computer, they either use batteries, which must be replaced, or the keyboard itself must be recharged.
Bluetooth
Bluetooth keyboards connect to your computer or other device via a Bluetooth connection. You can also use them with other Bluetooth-capable devices such as some smartphones and tablets. Using this connection means they don't tie up a USB port, which may be an important factor for you. Bluetooth keyboards also have the advantage of mobility – with ranges up to 30 ft. you are not limited to direct proximity to your device. However, as with standard wireless keyboards, lag can be a concern – especially at greater distances.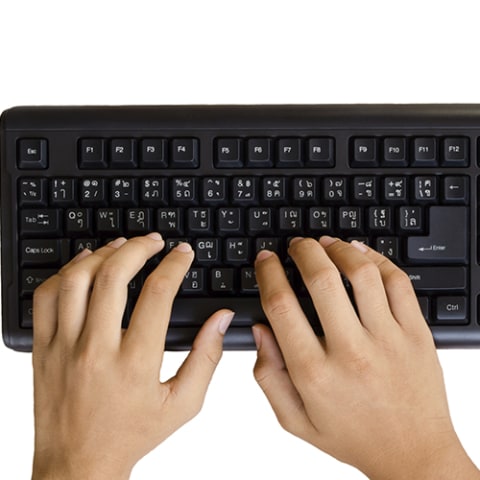 Comfort
Keyboards, next to displays and mice, are the most used parts of your computer. Your hands go to it every time you sit down and it's probably the last thing you touch. And using a poorly designed keyboard can lead to pain and joint inflammation. Several features can make keyboards more comfortable. Wrist rests can help cushion your wrists as you type. Slim, low profile keyboards and keyboards with adjustable tilt and height can help keep your wrists in a more natural alignment. Or, if you need them, full ergonomic keyboards are also available.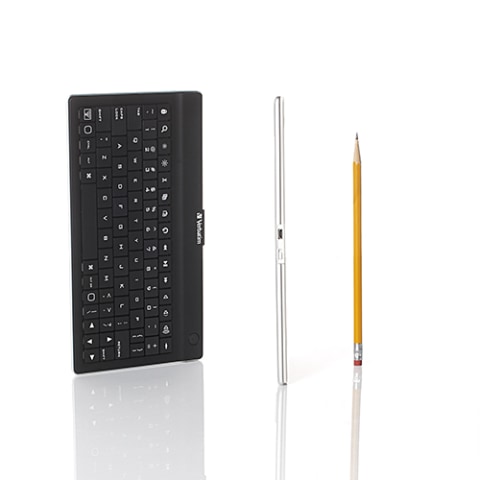 Size
Full-Size
A full-size keyboard will generally give you more functions, such as a full numeric keypad perfect for calculations, or additional features like brightness and volume controls and full-size function keys. Full-size keyboards can also be more comfortable to use, as they allow for more natural hand and wrist alignment while typing and have the size to accommodate more ergonomic features.
Mobile
If you're an avid smartphone and/or tablet user, choosing a keyboard that's compatible with your mobile devices may be important to you. Mobile keyboards can take your device from leisure to work, as answering emails and editing documents on your mobile device becomes as easy as working on your computer. Most mobile keyboards work via a Bluetooth connection so they will require charging or replacement. These keyboards are also generally smaller and more portable so you may not have all the functionality of a full-size keyboard. But, if working on the go is important to you, buying a keyboard that is mobile-compatible may be the answer.
Additional Features

Music Controls
If you listen to music while using your keyboard, selecting a model with music and media controls may be important to you. Having the ability to play, pause, skip tracks, and adjust volume directly from the keyboard means you can virtually control your music without ever leaving the screen you're working on.
Smart Function Keys
Some more advanced keyboards now have Smart Function keys, either as separate keys or as a function of another key. Every keyboard will vary in this aspect, but some of the more common smart functions include: adjusting the brightness, cut/copy/paste, and search.
Model

| | |
| --- | --- |
| Brand | VERBATIM CORPORATION |
Keyboard
Type

 

Office Products
Additional Information

| | |
| --- | --- |
| Date First Available | January 01, 2016 |
Payment & Security
Your payment information is processed securely. We do not store credit card details nor have access to your credit card information.