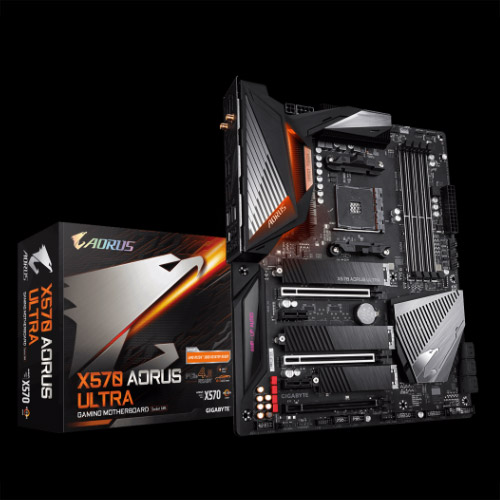 AMD X570 AORUS Motherboard with 12+2 Phase IR Digital VRM, Fins-Array Heatsink & Direct Touch Heatpipe, Triple PCIe 4.0 M.2 with Thermal Guards, Intel® WiFi 6 802.11ax, Intel® GbE LAN with cFosSpeed, USB Type-C, RGB Fusion 2.0
Supports AMD 3rd Gen Ryzen™/ 2nd Gen Ryzen™/ 2nd Gen Ryzen™ with Radeon™ Vega Graphics/ Ryzen™ with Radeon™ Vega Graphics Processors
Dual Channel ECC/ Non-ECC Unbuffered DDR4, 4 DIMMs
12+2 Phases IR Digital VRM Solution with PowIRstage
Advanced Thermal Design with Fins-Array Heatsink and Direct Touch Heatpipe
Triple Ultra-Fast NVMe PCIe 4.0/3.0 x4 M.2 with Triple Thermal Guards
Intel® WiFi 6 802.11ax 2T2R & BT 5
ALC1220-VB Enhance 114dB(Rear)/ 110dB(Front) SNR in Microphone with WIMA Audio Capacitors
Intel® Gigabit LAN with cFosSpeed Internet Accelerator Networking
RGB FUSION 2.0 with Multi-Zone Addressable LED Light Show Design, Supports Addressable LED & RGB LED Strips
Smart Fan 5 features Multiple Temperature Sensors, Hybrid Fan Headers with FAN STOP
Front & Rear USB 3.1 Gen2 Type-C™ Header & HDMI 2.0 support
Integrated I/O Shield Armor
Q-Flash Plus update BIOS Without Installing CPU, Memory and Graphics card
DESIGN CONCEPT
DOMINANT IN DARKNESS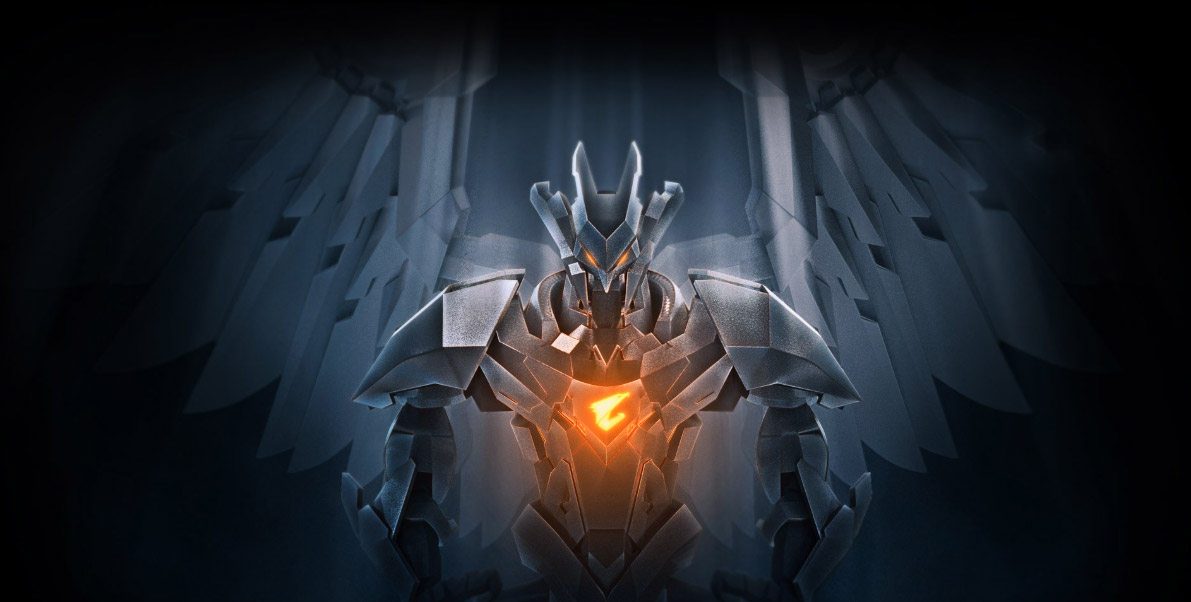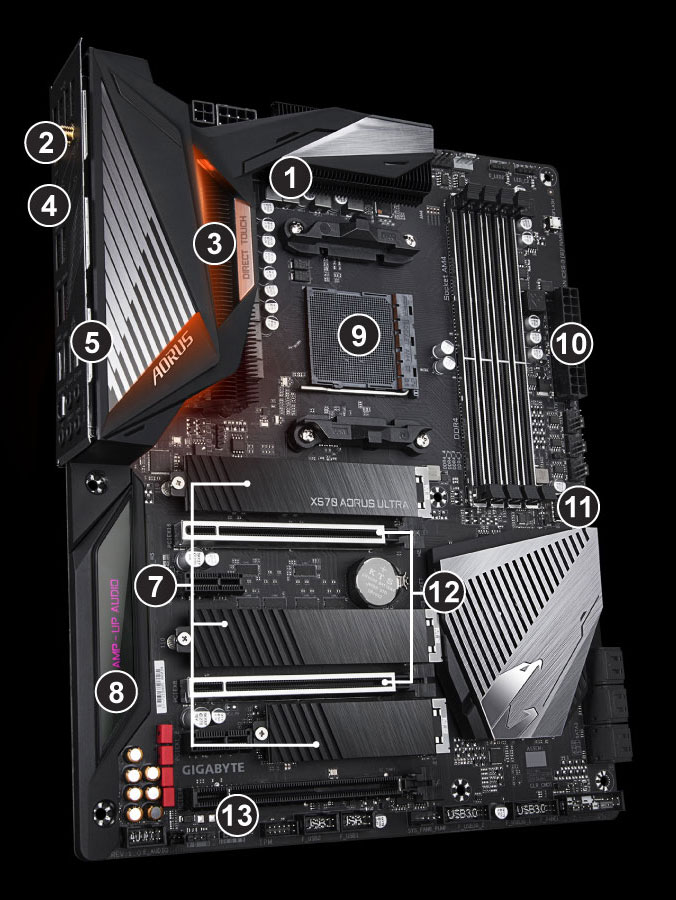 12+2 Phases IR Digital VRM Solution with PowIRstage

2X Copper PCIe 4.0 Mid-Loss Ready PCB

Intel® WiFi 6 802.11ax 2T2R & BT 5
HDMI 2.0
Advanced Thermal Design

Fins-Array
Direct Touch Heatpipes
5 W/mK LAIRD Thermal Conductivity Pad

Intel® GbE LAN


cFosSpeed Internet Accelerator

Integrated I/O Shield

Q-Flash Plus USB Port
Rear USB 3.2 Gen2 Type-C™

Triple PCIe 4.0 x4 M.2 Connectors

PCIe 4.0/3.0 x4
Triple Thermal Guards

Audio Solutions


ALC1220-VB Audio
High-End Audio Capacitors (WIMA & Nichicon Fine Gold)
Supports AMD Ryzen™ Series Processors


Dual Channel DDR4, 4 DIMMs with Ultra Durable Memory Armor

Solid Pin Power Connectors

24 pin ATX Power Connector
8+4 pin CPU Power Connector

Front USB 3.2 Gen2 Type-C™
PCIe 4.0 x16/x8/x4/x1 Slot


2x Ultra Durable PCIe Armor

RGB FUSION 2.0


Addressable LED Header*2
RGB LED Header*3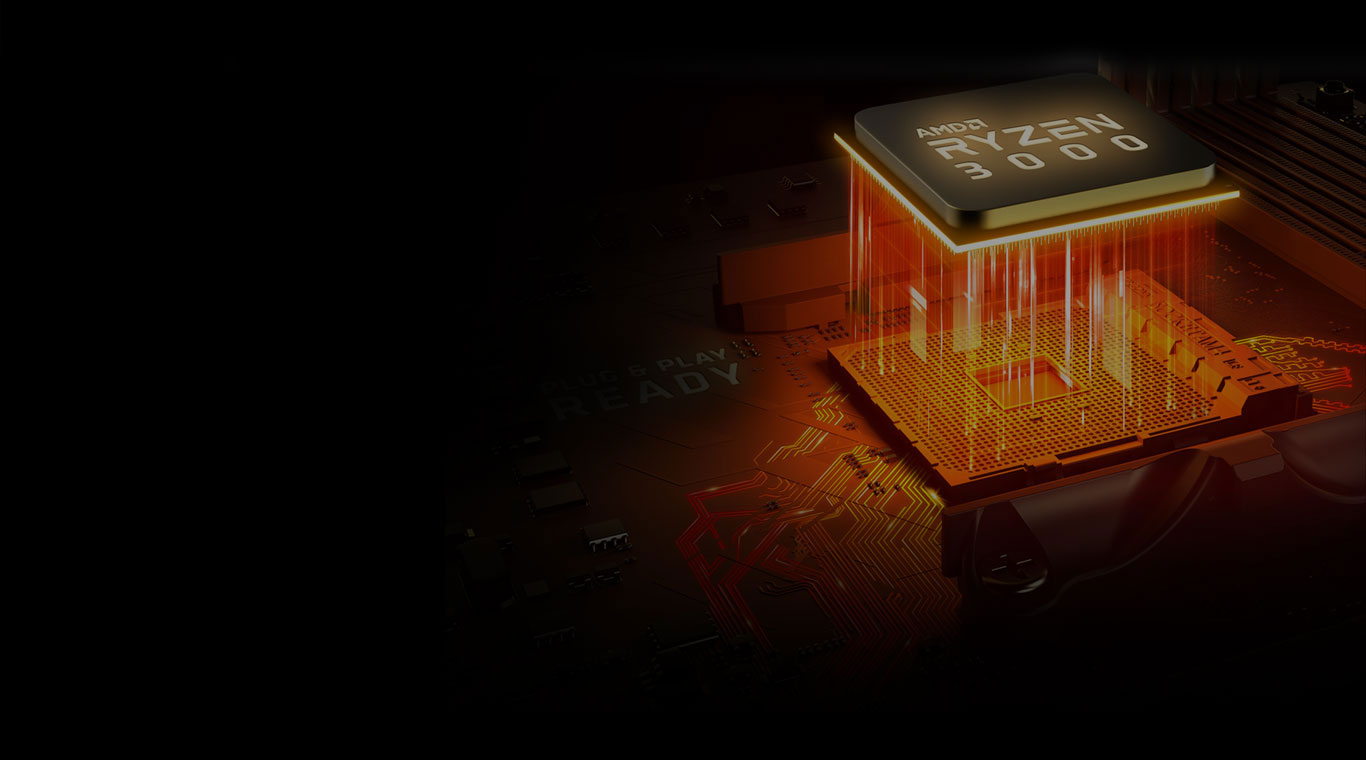 GET READY FOR AMD RYZEN™ 3000-SERIES
GIGABYTE X570 motherboards based on the AMD X570 Chipset provide full support for 3rd Gen AMD Ryzen™ Processors. The all-new design is a testament to GIGABYTE's dedication to design quality. GIGABYTE X570 motherboards offer a rich list of features such as support for PCIe 4.0 and USB Type-C™ interfaces on select boards, refined audio, high speed of Ethernet and latest standard of WIFI design, to fulfill users' performance, audio, and data transfer needs. The new, advanced power and thermal design enables users to unleash the performance on AMD Ryzen™ 3000-series Processors, making the GIGABYTE X570 motherboards perfect for users looking to build the best AMD platform gaming system.


AMD StoreMI Technology
GIGABYTE X570 motherboards maximize your PC's potential with AMD StoreMI technology. StoreMI accelerates traditional storage devices to reduce boot times and enhance the overall user experience. This easy-to-use utility combines the speed of SSDs with the high capacity of HDDs into a single drive, enhances the read/write speeds of the device to match that of SSDs, bolsters data performance for incredible value, and transforms the everyday PC to a performance driven system.
The benefits of AMD StoreMI:
Making the PC experience fast, smooth and easy
Optimizing computer responsiveness from system boot to application launch
Offering SSD performance with HDD capacity at an affordable cost
Quickly accessing key files by automatically learning users' computing behaviors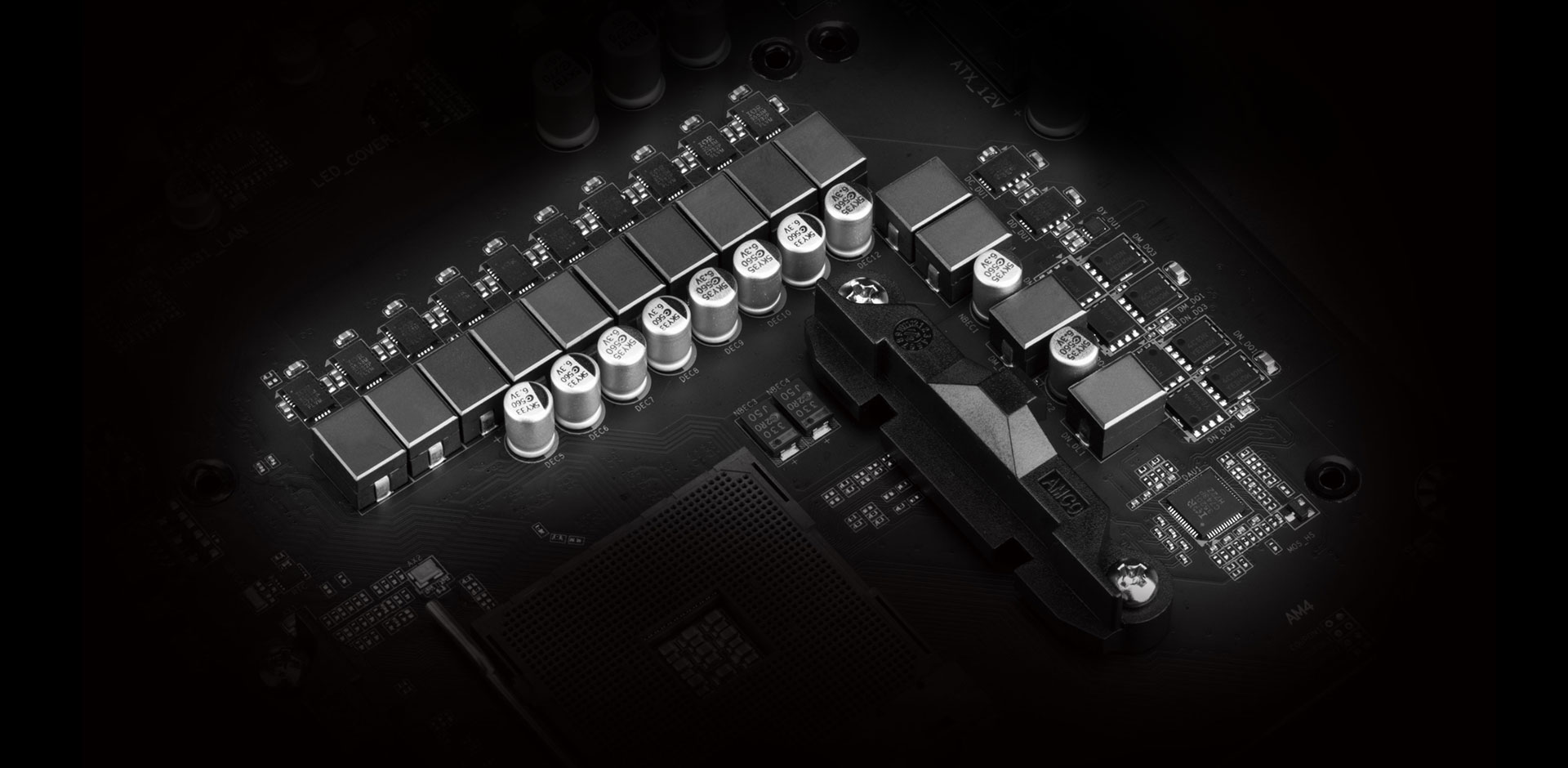 Ultimate Power Design
To unleash the full potential of the 3rd Generation of AMD Ryzen™ CPU, the motherboard requires the best CPU power design. With the best quality components and GIGABYTE R&D design capability, the X570 AORUS is a true beast among motherboards.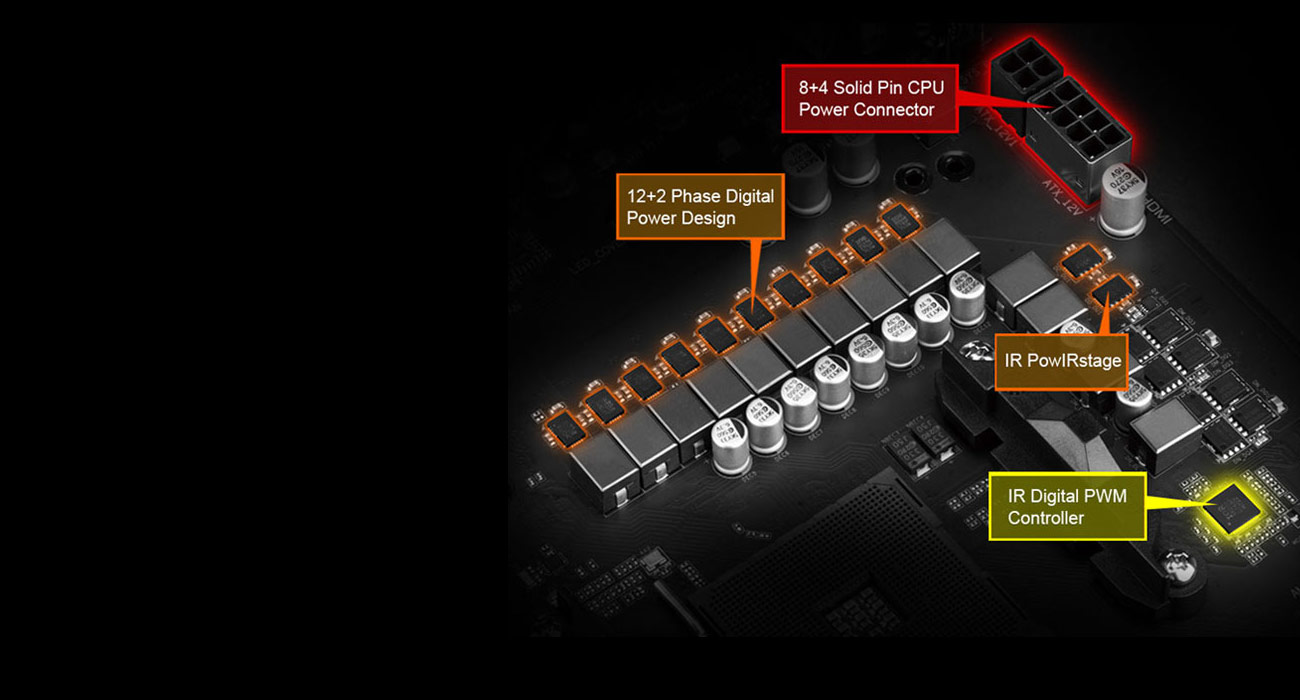 12+2 Phases IR Digital Power Design
12+2 phase power design
40A IR 3553 PowIRstage for vCore
Lower temperature
Server level reliablity
X570 AORUS ULTRA motherboard uses an all IR digital CPU power design which includes both digital PWM Controller and PowlRstage MOSFET, and is capable of providing at least 40A of power from each phase, for a total of 480A.
These 100% digital controller and additional 8+4 Solid-pin CPU Power Connectors offer incredible precision in delivering power to the motherboard's most power-hungry and energy-sensitive components, allowing enthusiasts to get the absolute maximum performance from the new AMD Ryzen 3000 series CPU.
*Doubled from 6 phases with current balancing.
12+2 Phase Power Architecture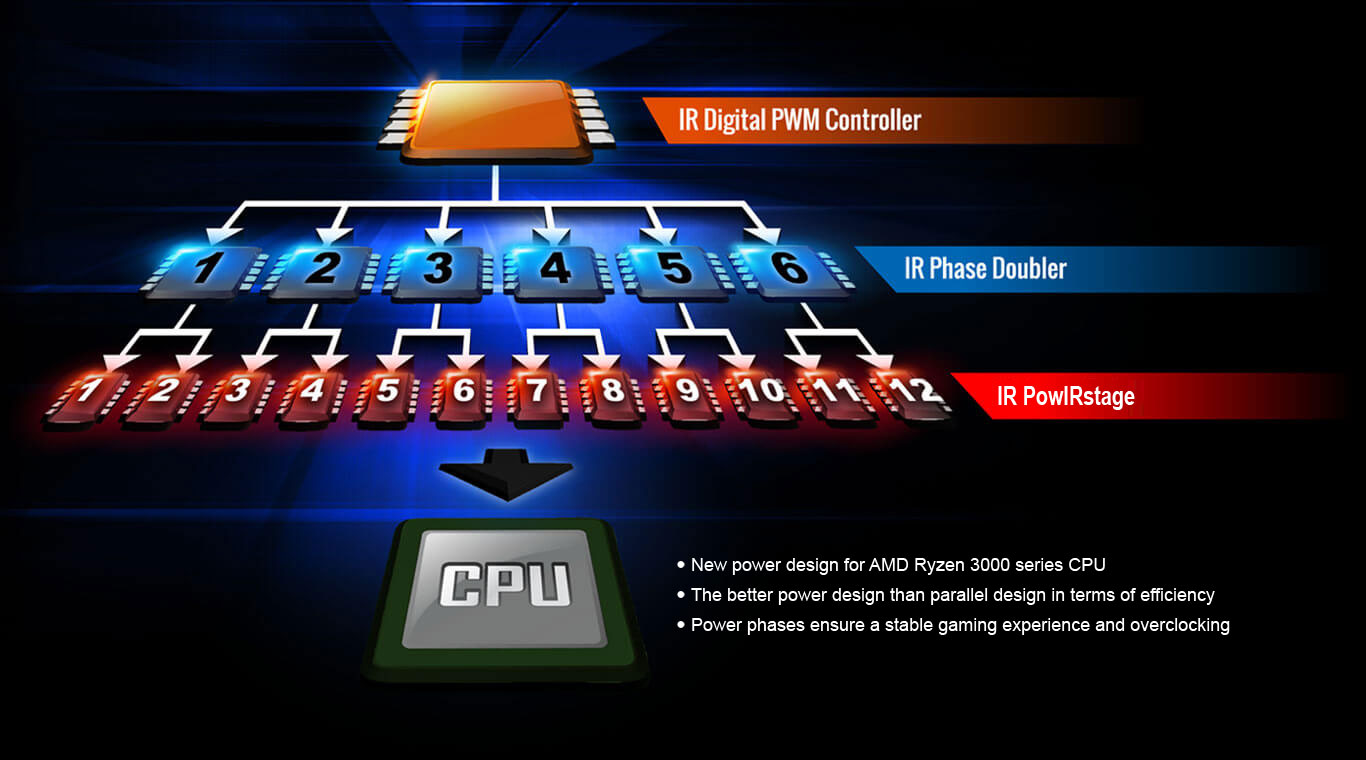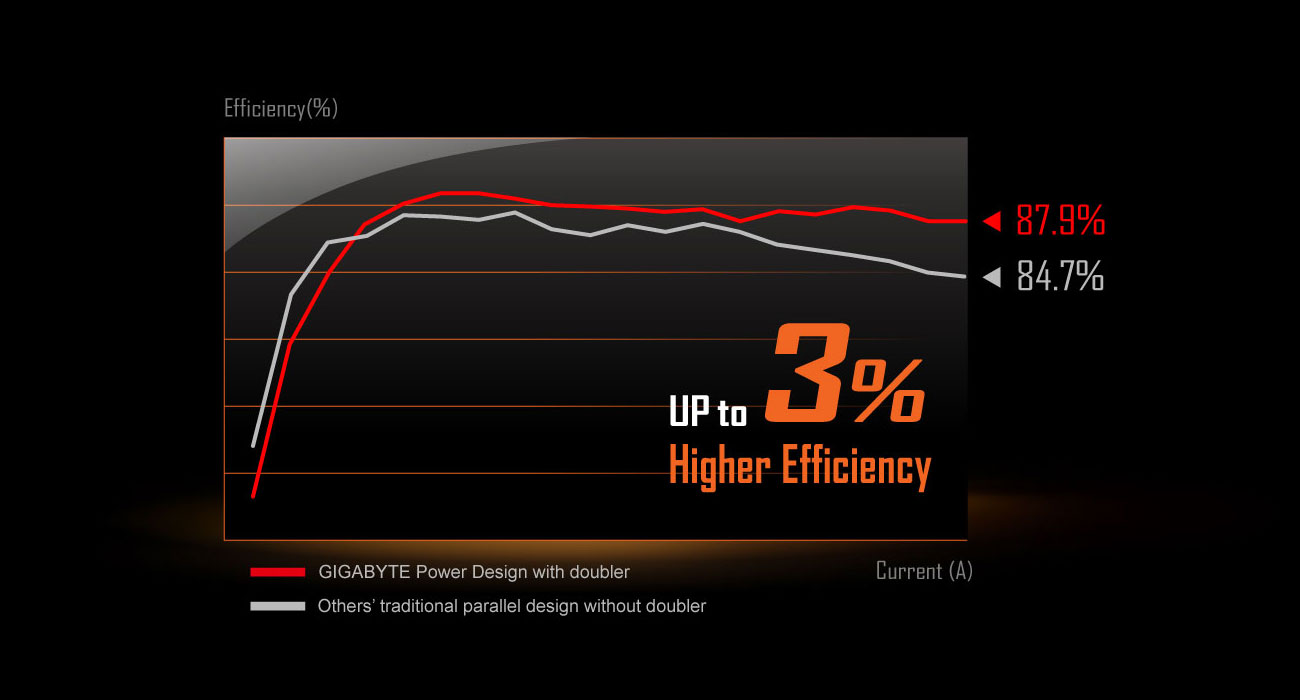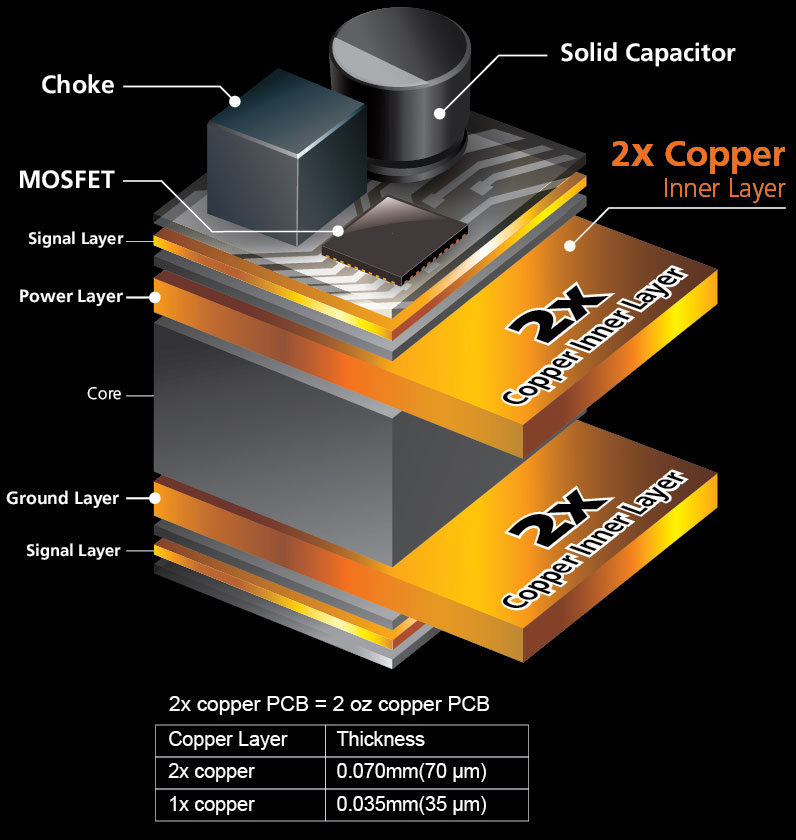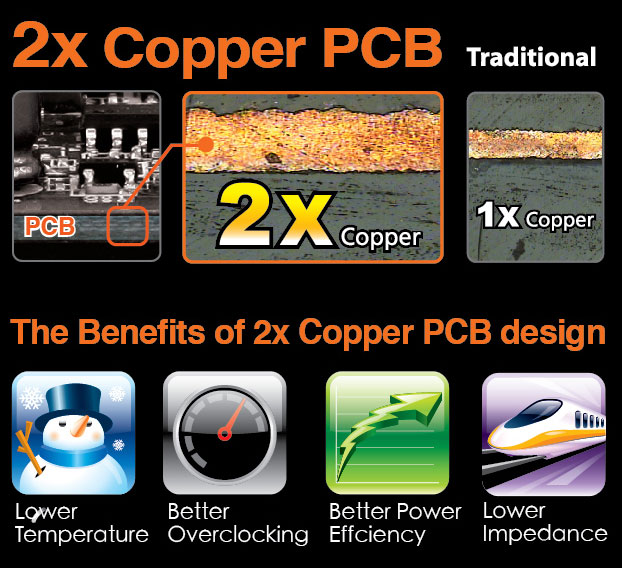 GIGABYTE's exclusive 2X copper PCIe 4.0 Ready PCBs design provides sufficient power trace paths between components to handle greater than normal power loads and to remove heat from the critical CPU power delivery area. This is essential to ensure the motherboard is able to handle the increased power loading that is necessary when overclocking.
Advanced Thermal Design
X570 AORUS ULTRA reaches a perfect balance between style and performance by combining the media acclaimed Fins-Array heatsink and Direct Touch heatpipe, to heatpipe provide 30% lower MOSFET temperatures for enthusiasts, overclockers and professional gamers.
Fins-Array Heatsink with Direct Touch Heatpipe and High Thermal Conductivity Pad
X570 AORUS ULTRA uses Fins-Array Heatsink which increases the heat dissipation area by 300% compared to traditional heatsinks of the same size. Direct Touch Heatpipe helps transfer heat from MOS fins. By using LAIRD 1.5mm thick, 5W/mK high thermal conductivity pads, it can transfer 2.7x more heat compared to traditional thermal pads in the same time period.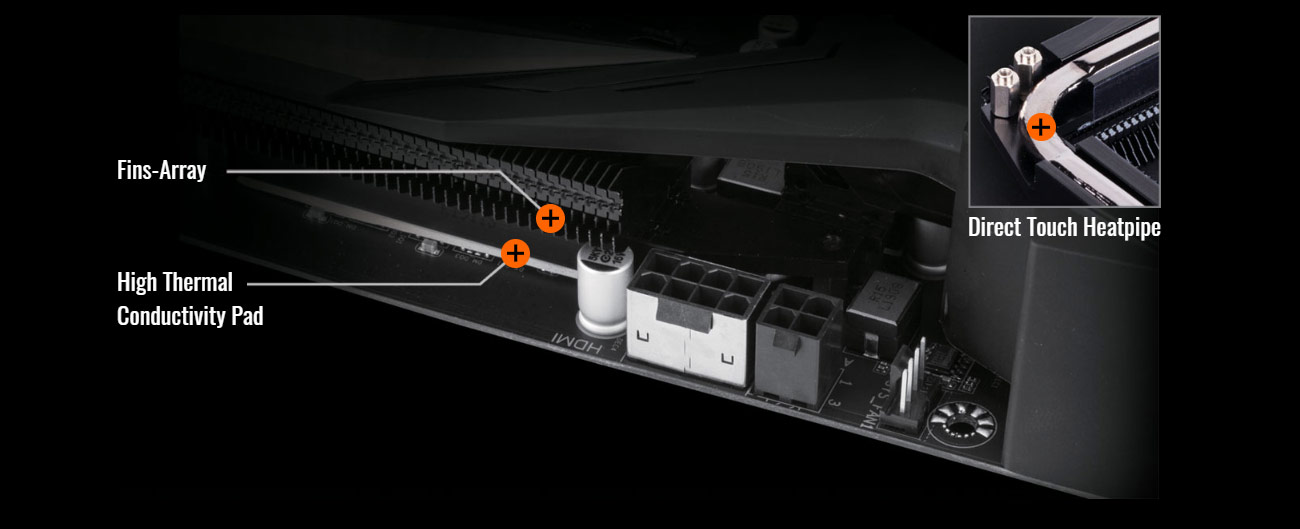 Full PCIe 4.0 Design
X570 AORUS pushes the envelope once again by featuring Full PCIe 4.0 Design, including PCIe 4.0 slots, PCIe 4.0 M.2 connectors, and delivering highly optimized performance and flexibility demanded for power users and extreme gaming enthusiasts.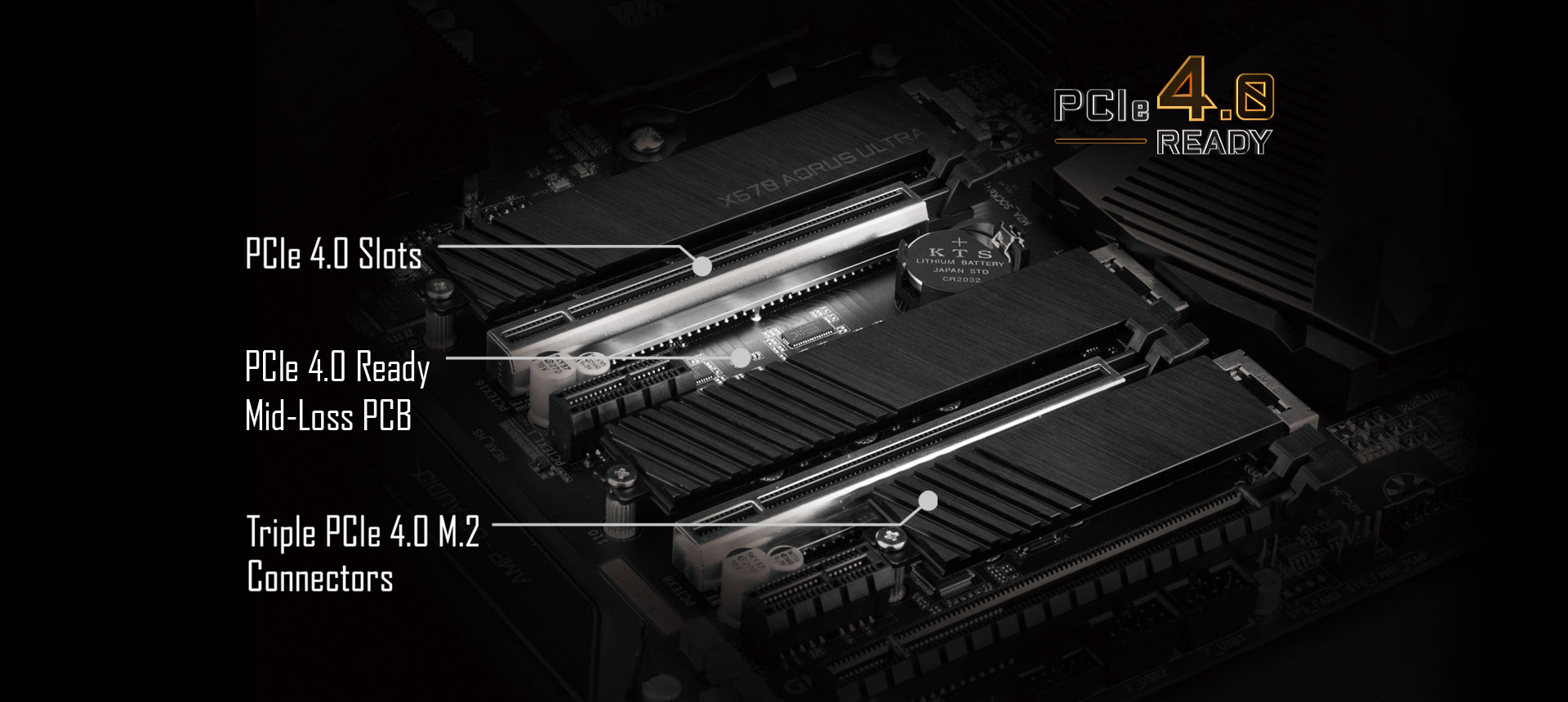 X570 AORUS Series Motherboards feature built-in PCIe 4.0 slots, delivering superior bandwidth compared to that from previous generation technology. Performance of Graphics cards and PCIe NVMe AIC SSDs will not be limited by insufficient bandwidth.
PCIe 4.0 slots have higher slot signal stability and lower impedance, maximizing PCIe bandwidth while also being backwards compatible with PCIe 3.0.


Triple PCIe 4.0 M.2 Connectors with Thermal Guards
AORUS Gaming Motherboards are focused on delivering M.2 technology to enthusiasts who want to maximize their systems' potential.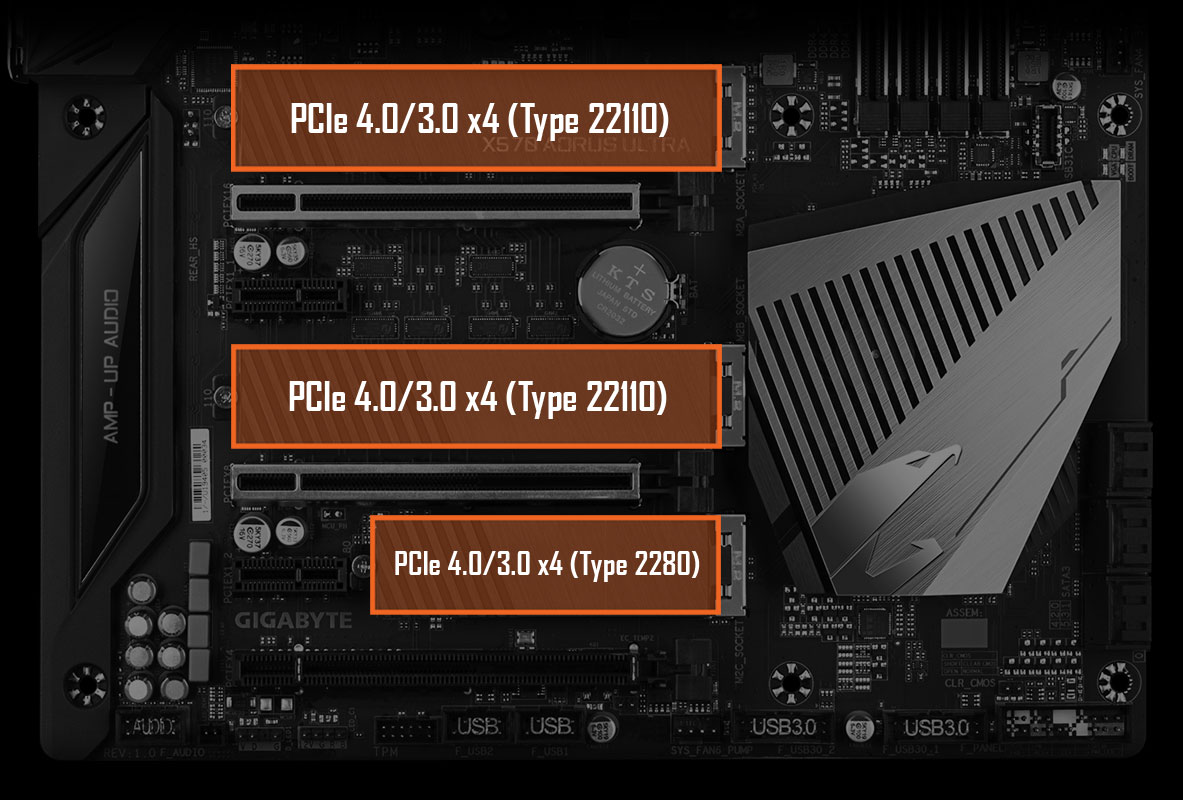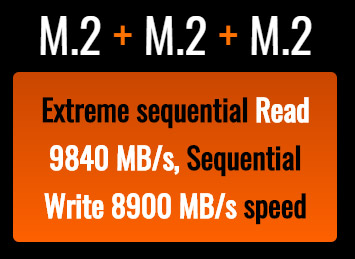 Triple PCIe 4.0 SSD in RAID 0
Extreme Performance with PCIe 4.0 x4 NVMe PCIe SSDs
X570 AORUS motherboards offer the industry's best compatibility in terms of NVMe storage for users who demand high capacity and seek the best performance. AORUS' unique design can be configured in RAID for record speeds of up to 9840 MB/s (Sequential Read), making AORUS the obvious choice for the ultimate PC.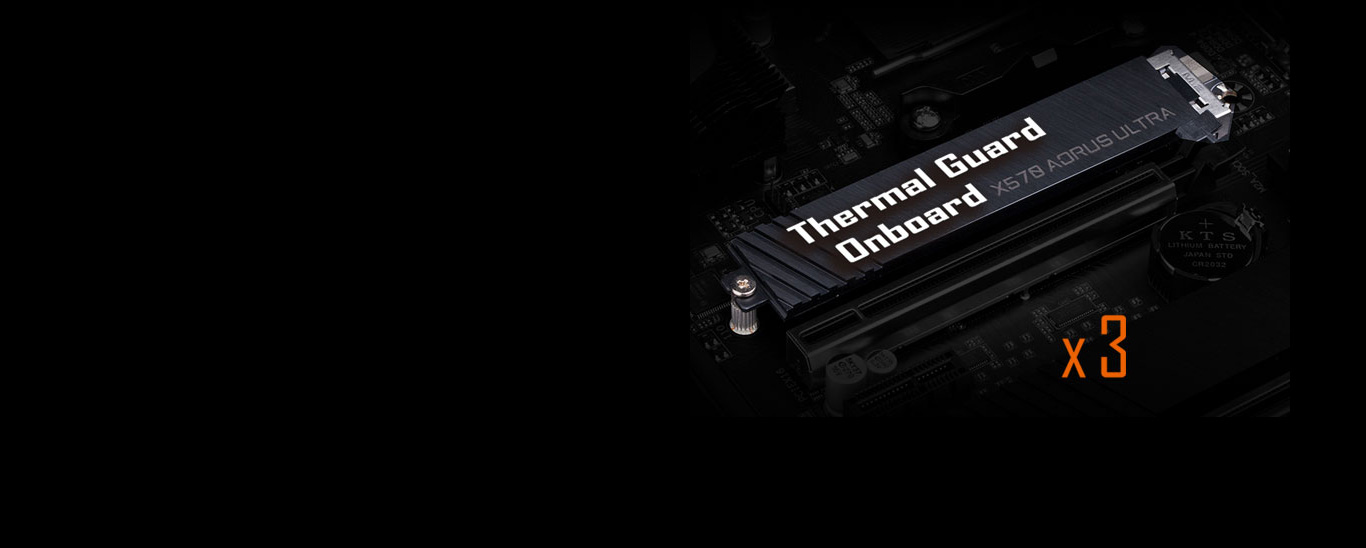 AORUS M.2 Thermal Guard designed for Gen 4 SSD
GIGABYTE Ultra-Efficient M.2 Thermal Guard
For upcoming ultra fast PCIe 4.0 SSDs, compromised performance is not acceptable. Well-managed thermal performance is particularly important for high-performance Gen 4 NVMe SSDs. GIGABYTE provides improved thermal solutions for M.2 SSD devices. The M.2 Thermal Guard prevents throttling and bottlenecks on high speed M.2 SSDs as it helps to dissipate heat before it becomes an issue.

Thermal Throttling As Temperature Rises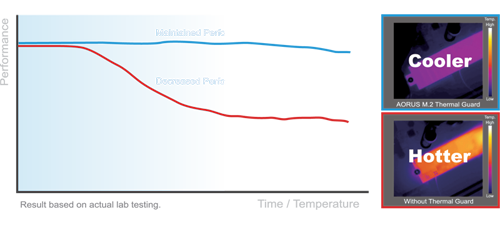 Support for DDR4 XMP Up to 4400MHz and Beyond*
AORUS is offering a tested and proven platform that ensures proper compatibility with profiles up to 4400MHz and beyond. All users need to do to attain this performance boost is to ensure that their memory module is XMP capable and that the XMP function is activated and enabled on their AORUS motherboard.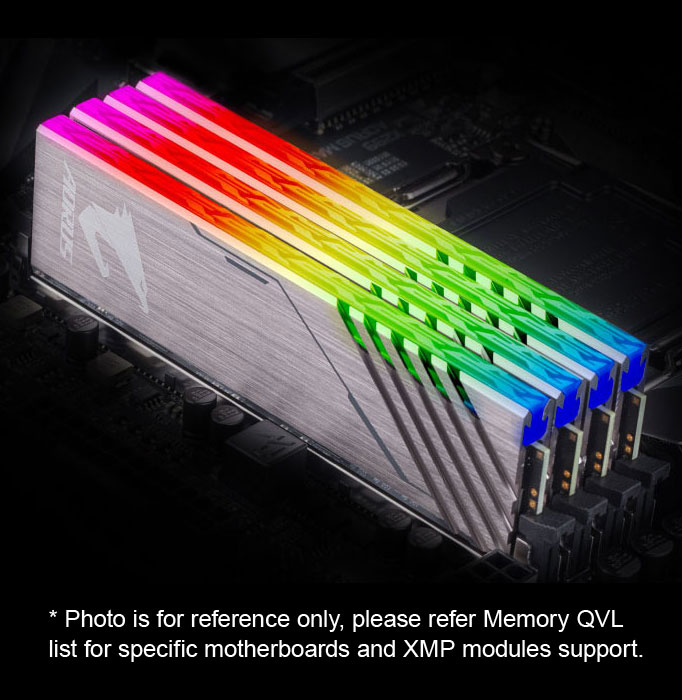 Broad DDR4 Compatibility with Support List of 1000+ DDR4 Validated!
AORUS partners very closely with memory vendors from around the world to ensure that modules offered by popular memory brands are compatible with AORUS Motherboards. AORUS has verified over 1000+ different modules to ensure performance in a AORUS built system.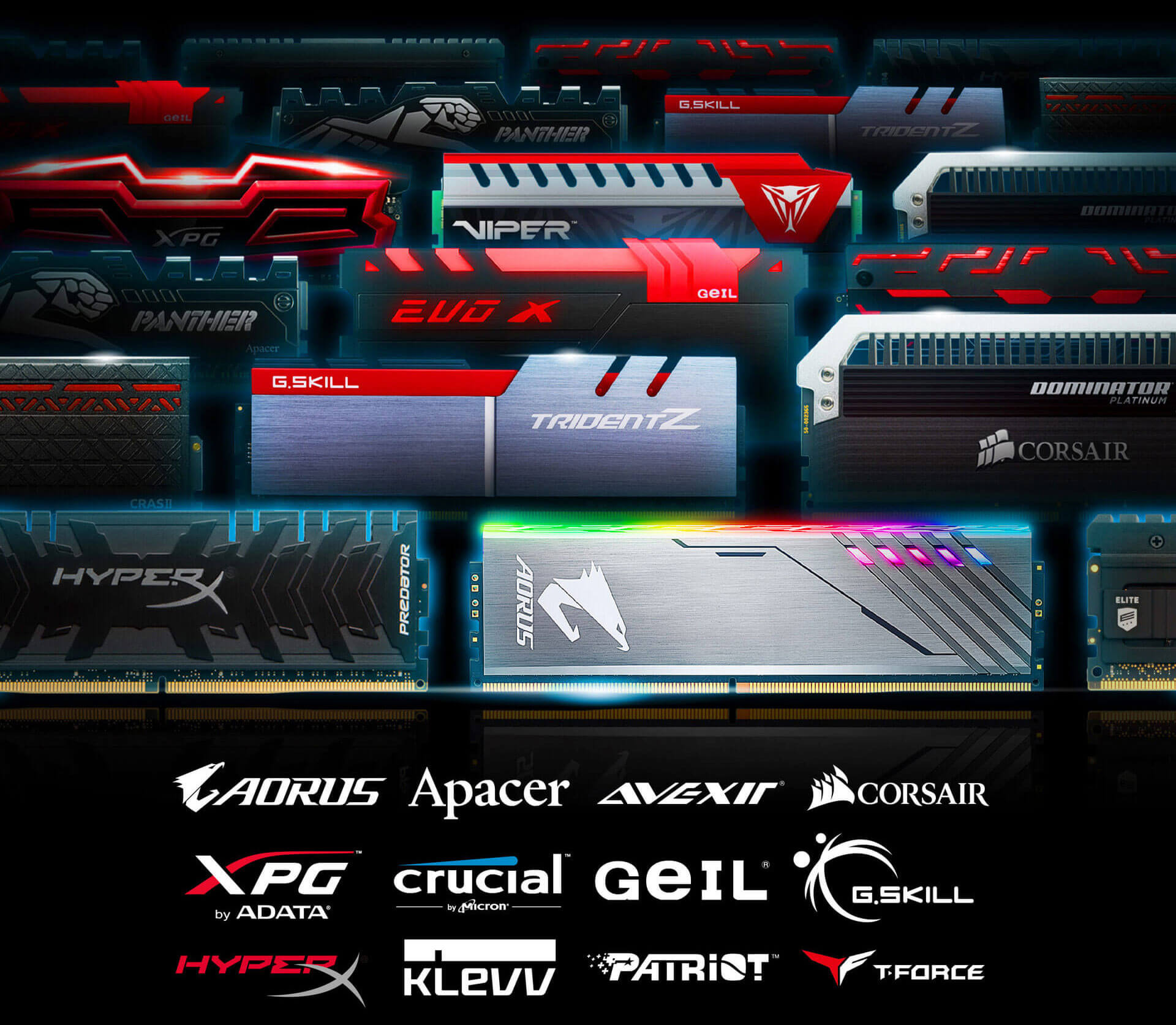 Next Generation Connectivity
A high-end product needs to be future-proof so your system stays up-to-date with the latest technology. X570 AORUS motherboards provide all next generation network, storage, and WIFI connectivity to keep you up to speed.

New Introduce Intel® WiFi 6 802.11ax + BT 5 Module
Intel Wireless solution supports 802.11ax, enables gigabit wireless performance, provides smooth video streaming, better gaming experience, few dropped connections and speeds up to 2.4Gbps*. Moreover, Bluetooth 5 provides 4X range over BT 4.2 and with faster transmission.
Benefit of WiFi 6:
5.5X throughput than 802.11ac 1x1*
4X better network capacity, no traffic jams especially in those dense area with lots of devices
Network efficiency increase for better user experience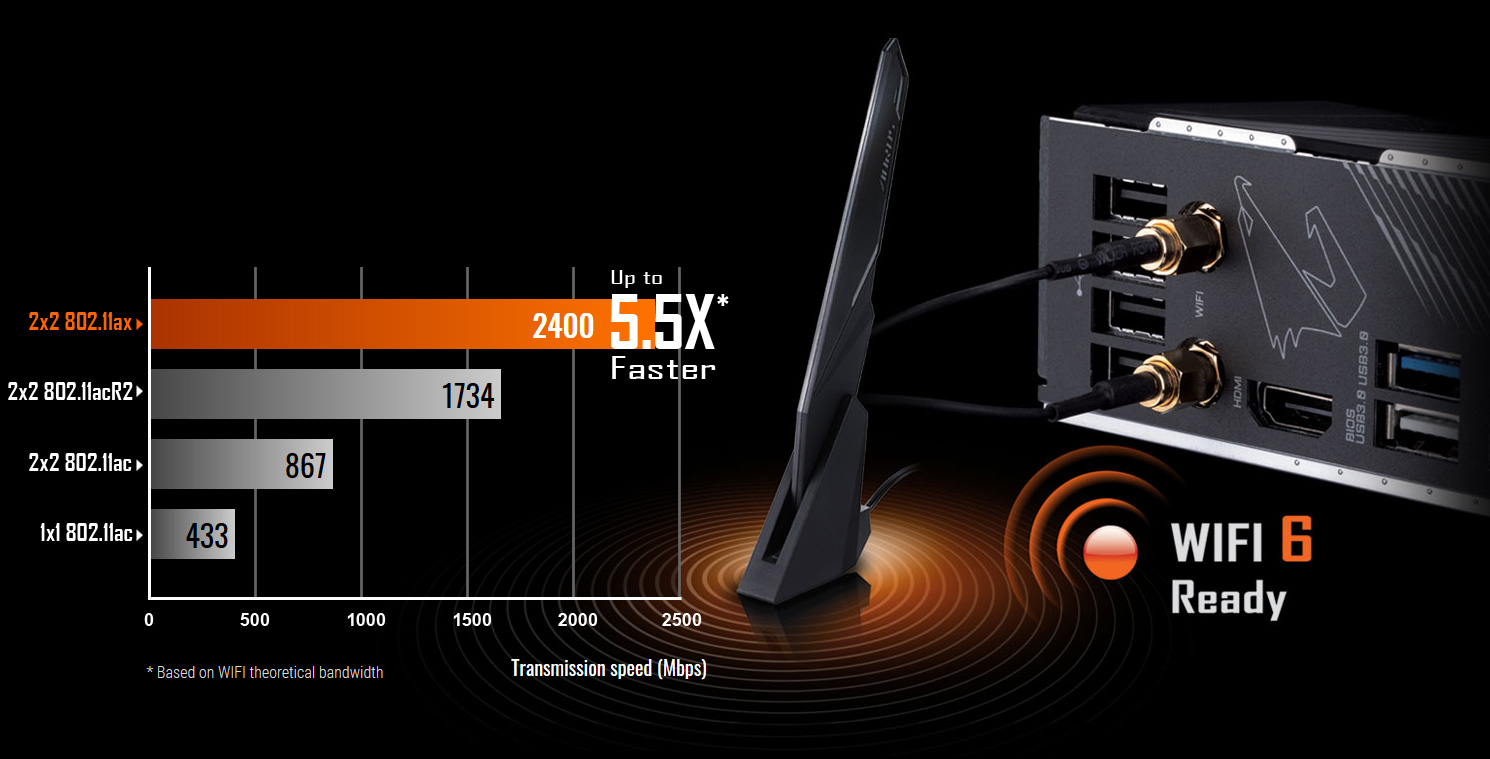 AORUS Antenna Supports Dual Band with Better WIFI Signal
All new antenna supported dual band 802.11ax/ac 2.4GHz & 5GHz.
better signal strength compared to traditional antenna design
AORUS Antenna with smart antenna function for the best WIFI signal transmitting
Multiple angle tilt and magnetic base for the best signal strength direction and location
Intel® GbE LAN with cFosSpeed Internet Accelerator Networking
Intel® GbE LAN features cFosSpeed, a network traffic management application which helps to improve network latency and maintain low ping times to deliver better responsiveness in crowded LAN environments.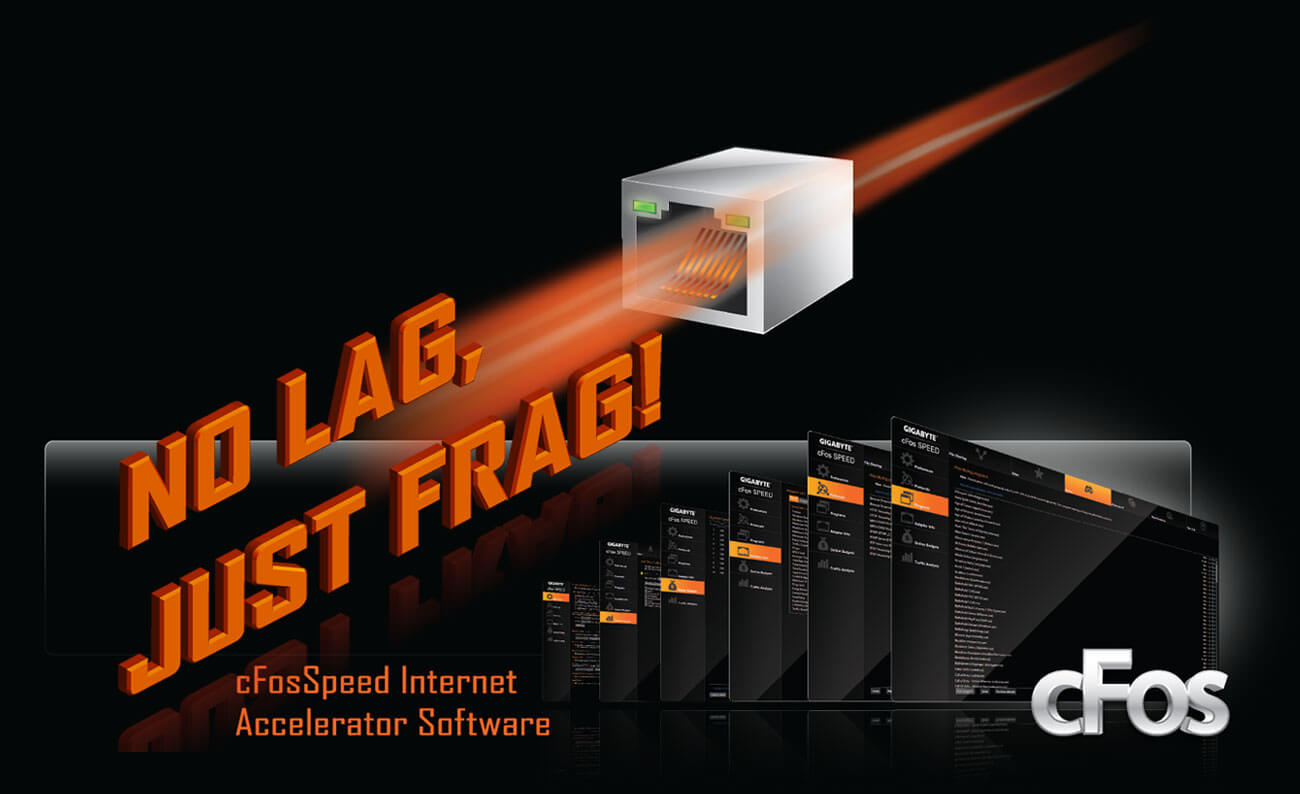 USB Type-C™ Front Panel Connector
Equipped with next generation connectivity AORUS Gaming Motherboards already support the chassis of the future. The onboard USB Type-C™ header for USB 3.2 Gen2 makes access convenient when connecting a USB 3.2 Gen2 drive or charging your new mobile device.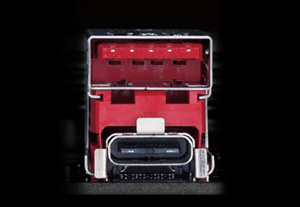 Native USB 3.2 Gen2
Connecting the Future - USB Type-C™
AMD's native USB 3.2 Gen2 provides USB 3.2 Gen2 ports with speeds up to 10Gbps. With twice the bandwidth compared to its previous generation as well as backwards compatibility with USB 2.0 and USB 3.2 Gen1, the much improved USB 3.2 Gen2 protocol is available over the new reversible USB Type-C™ and the traditional USB Type-A connector for better compatibility over a wider range of devices.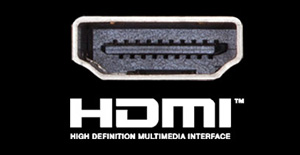 HDMI 2.0 for 4K / 60P / 21:9 / HDCP 2.2 Support
HDMI 2.0, which is backwards compatible with HDMI 1.4, offers 18 Gb/s of bandwidth – nearly twice that of the previous generation. This unlocks the potential for users to transfer multiple video streams, as well as a native cinematic 21:9 ratio (which most movies are shot in), offering the best visual experience for viewers.

ALC1220-VB Immersive Gaming ViBes
All New Realtek High-End HD Audio Codec
ALC1220 120dB(A) SNR HD Audio with Smart Headphone Amp automatically detects impedance of your head-worn audio device, preventing issues such as low volume and distortion.
With the new VB series audio controller, stream your voice to the world vibrantly with both front/rear microphone SNR up to 110/114dB(A).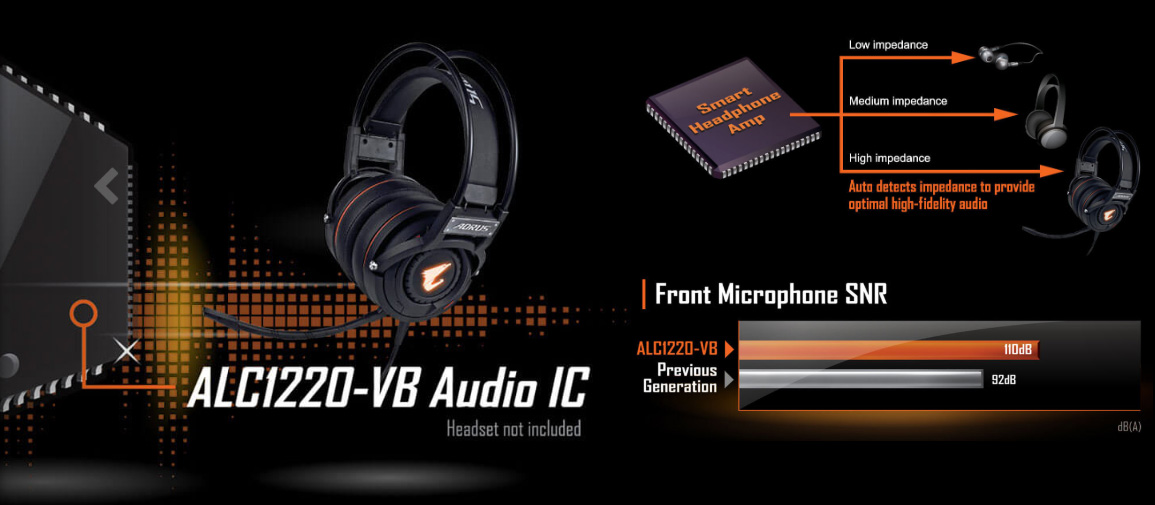 No More Confusion During In-Game Voice Chat
Microphone input with higher front dynamic range allows gamers to hear more clearly. No more misunderstandings, no more confusing GO! GO! GO! as NO! NO! NO!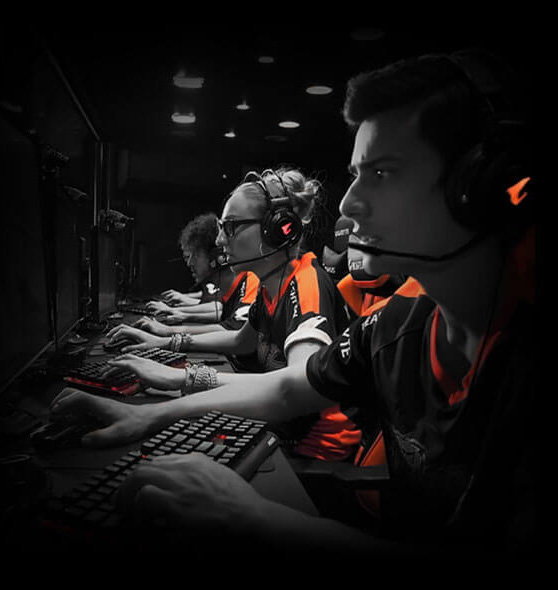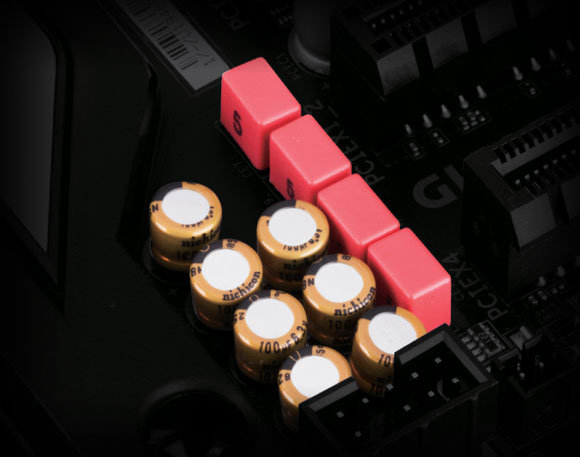 High-End WIMA & Audio Capacitors
The AORUS motherboards boast a combination of Hi-Fi grade WIMA FKP2 capacitors and high-end Chemicon audio capacitors. While the high-end audio capacitors are suited for high-grade audio equipment, using state of the art technology to provide rich sound in the bass and clearer high frequencies, the WIMA FKP2 capacitors are being used widely in premium grade Hi-Fi systems. The addition of this to the exclusive AOURS AMP-UP Audio technology makes for the ideal onboard sound solution for the most demanding audiophiles.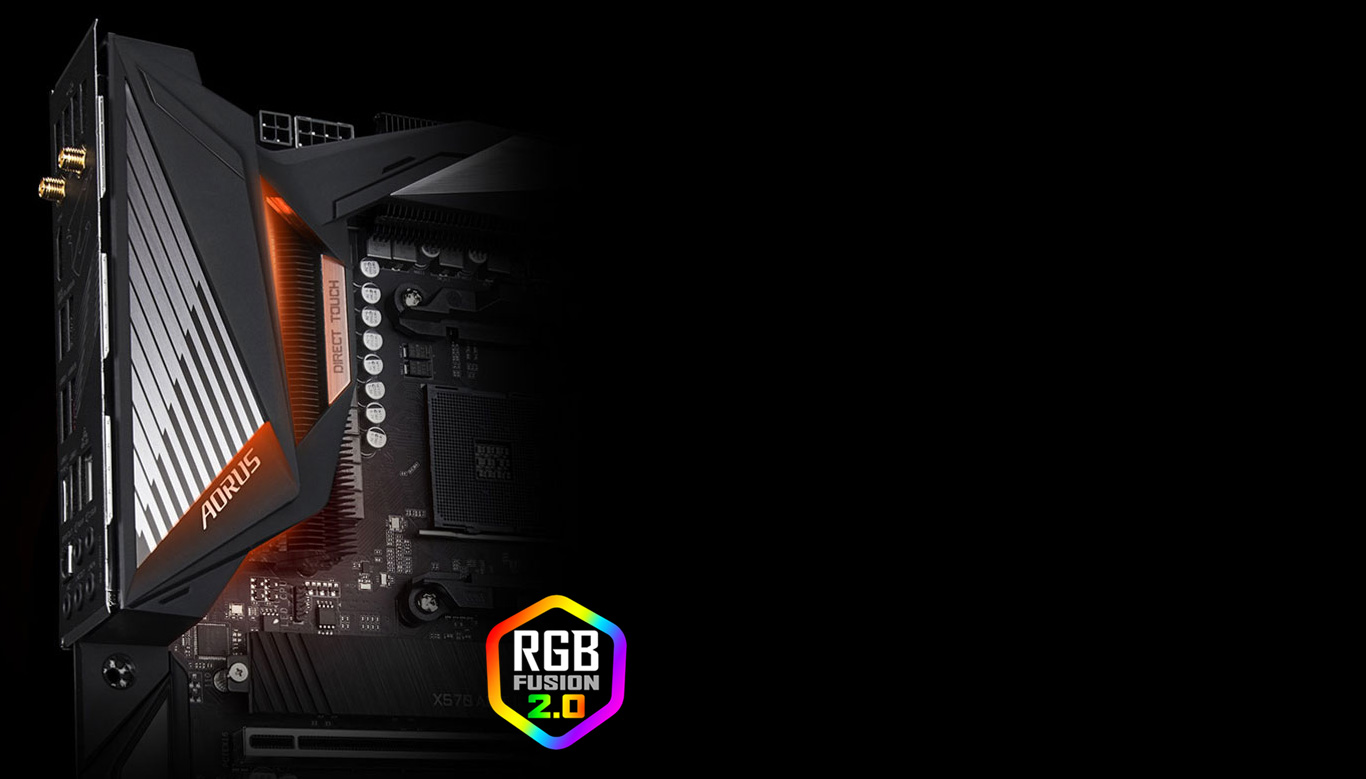 RGB Fusion 2.0
With AORUS Motherboards, RGB Fusion 2.0 is even better with Addressable LEDs.* RGB Fusion 2.0 offers users the option to control onboard RGB and external RGB / Addressable LED light strips for their PC. Already feature filled with colors and patterns, RGB Fusion 2.0 on X570 Series AORUS Motherboards are now upgraded with Addressable LED support. With external Addressable LED strips*, where each LED is digitally addressable, users can experience even more patterns, styles, and illuminations.

AORUS Motherboards will support 5v Addressable LED lighting strips and up to 300 LED lights. RGB Fusion 2.0 with Addressable LEDs comes with new patterns and various speed settings with more to come.

* Addressable LEDs are available only on select Motherboards, external LED Strips, Addressable LED Strips are not included with Motherboard purchase.
Multi-Zone Light Show Design
Now offering more LED customizations than ever, users can truly adapt their PC to represent their lifestyle. With full RGB support and a redesigned RGB Fusion 2.0 application, the user has complete control over the LEDs which surround the motherboard.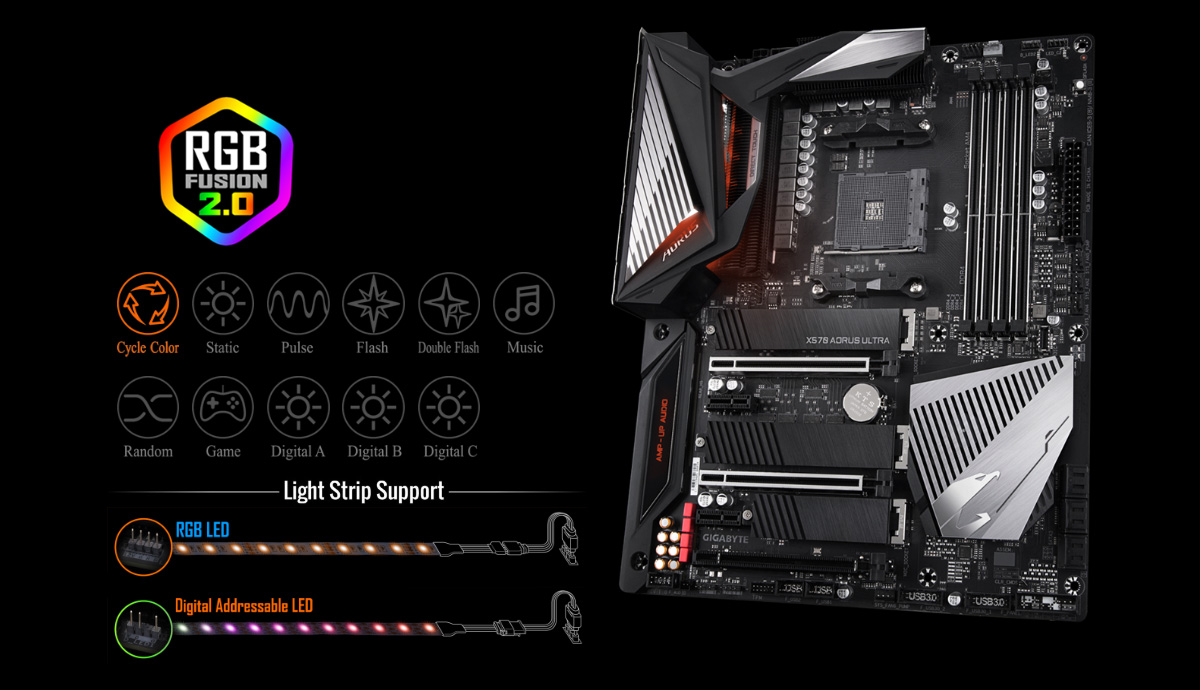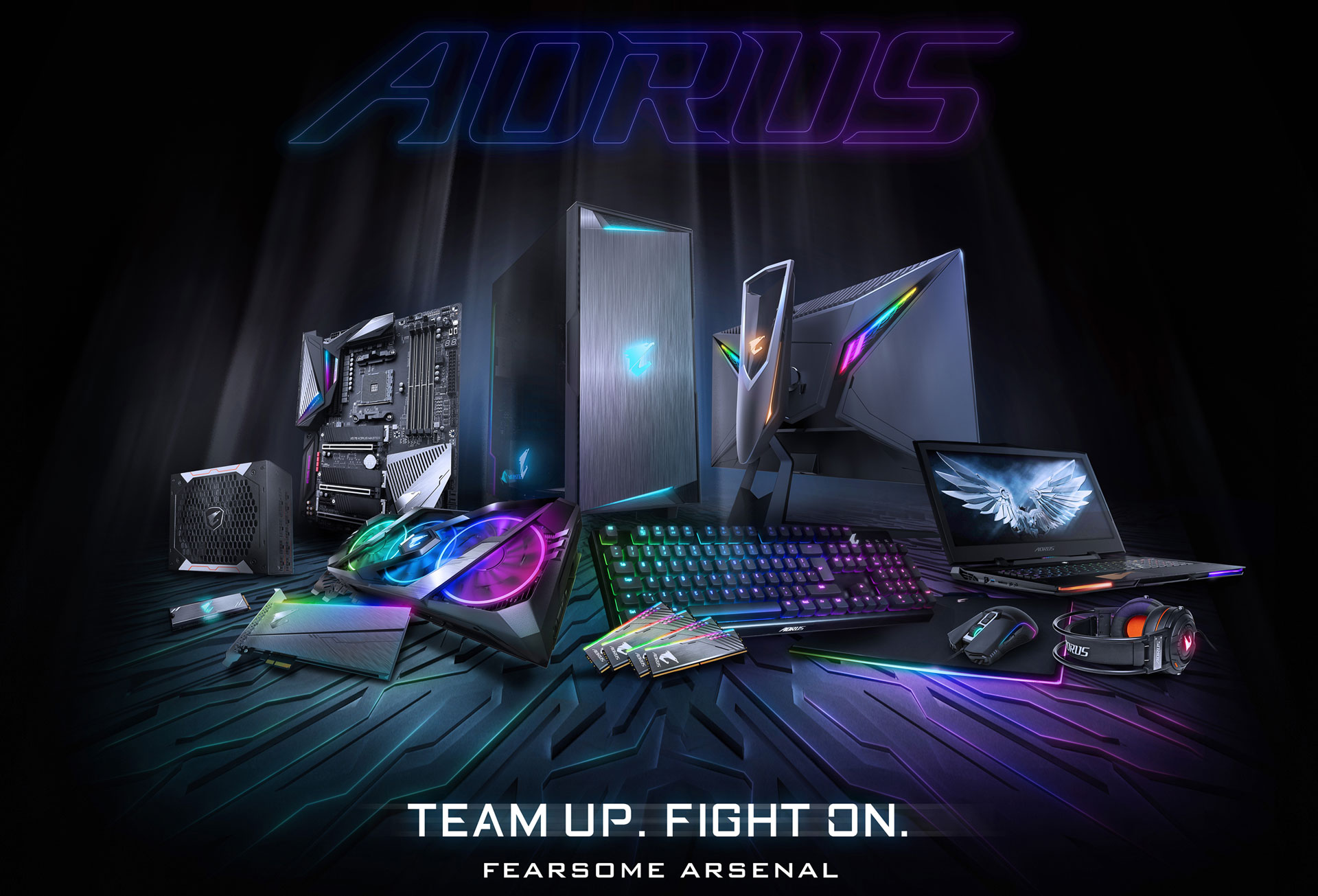 RGB Fusion 2.0 Ready
With a dazzling array of products supported, RGB Fusion 2.0 is the software that brings it all together, letting your accessories synchronize to the same beat. Customize all your LEDs how you like — have them match, dazzle and impress. Learn more about RGB Fusion 2.0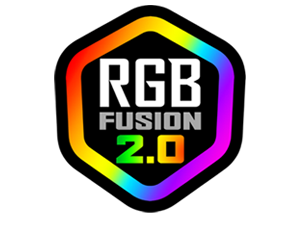 With an integrated intuitive user interface, the RGB Fusion 2.0 provides you a better solution for customizing the lighting effects across all supported devices. From motherboards, graphics cards to the peripheral products, you can personalize your gaming rig with your own style and show off your build by sharing the profiles. In addition, the new gaming mode makes the lighting effects interactive with selected games to bring you the most immersive gaming experience./p>

GIGABYTE RGB Fusion APP
Don't just make your PC shine, make it a work of art that friends will envy. With the GIGABYTE RGB Fusion mobile app users can watch as they control the lighting within their gaming PC. This gives users ease of access as they try and adjust colors and speeds for different modes, all this can be achieved away from the keyboard and monitor of their PC.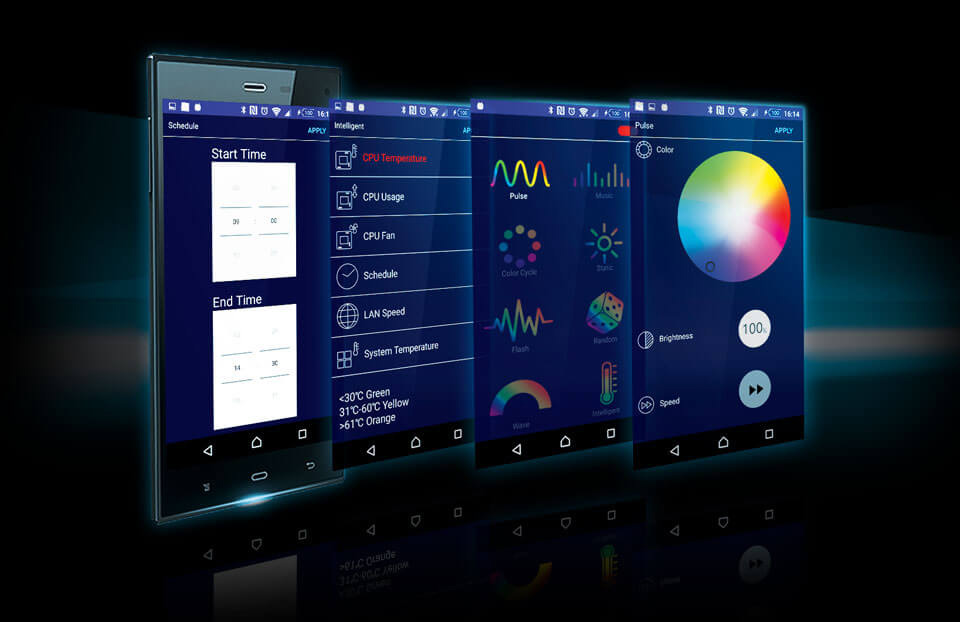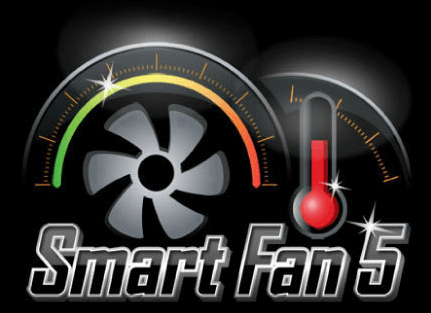 Smart Fan 5
With Smart Fan 5 users can ensure that their gaming PC can maintain its performance while staying cool. Smart Fan 5 allows users to interchange their fan headers to reflect different thermal sensors at different locations on the motherboard. Not only that, with Smart Fan 5 more hybrid fan headers that support both PWM and Voltage mode fans have been introduced to make the motherboard more liquid cooling friendly.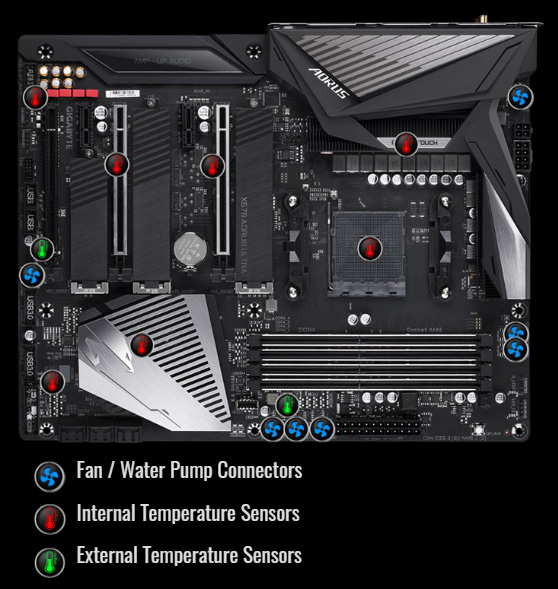 Different models have different number of fan pin headers and temperature sensors. Smart Fan 5 function may vary by model.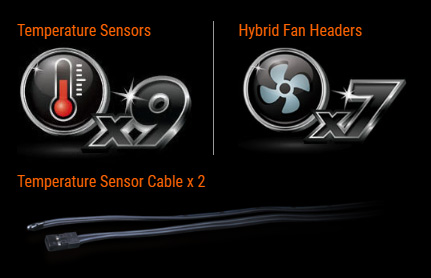 7 Fan / Water Pump Connectors
7 Internal Temperature Sensors
2 External Temperature Sensors
All Hybrid Fan Headers
Interoperable Fans and Sensors
Supports High Current Fans up to 24W(2AX12V) with Over-Current Protection
Intuitive UI for Fan Control
FAN STOP
Achieve fan silence. With Fan Stop, map any fan to stop completely when temperatures drop below a specified threshold. Which fan stops, based on readings from which sensor, and at what temperature—all of it can be customized to your liking.

Hybrid Fan Pin Headers
Assume complete control over your liquid cooling setup! Smart Fan 5 receives up-to-the-second information on flow-rate and water-temperature through the Hybrid Fan Pin Headers or external thermistor sensors—giving you absolute mastery over your PC.
All Hybrid Fan Headers can automatically detect the type of cooling device whether it be fan or pump with different PWM or Voltage mode.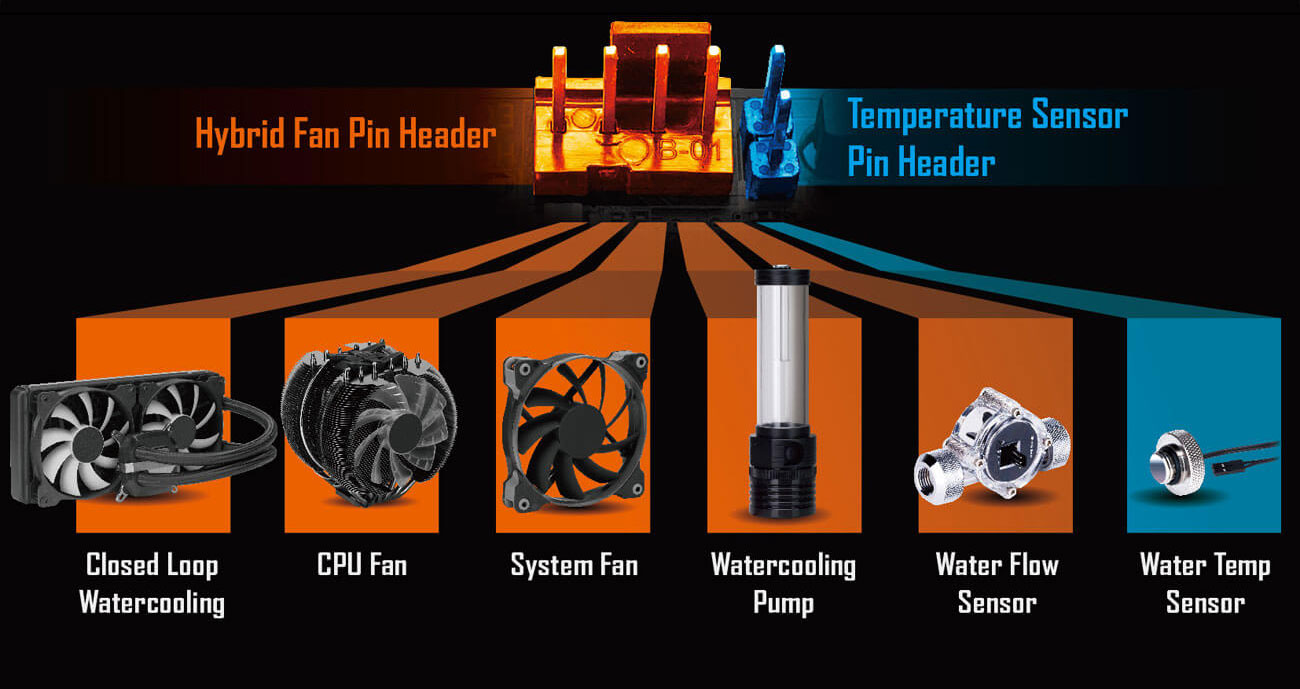 New Smart Fan 5 Software
Choose from different modes, Quiet to Full Speed, to match your system usage preferences. For each fan or pump, you can use the intuitive fan curve to define trigger thresholds and corresponding fan speeds.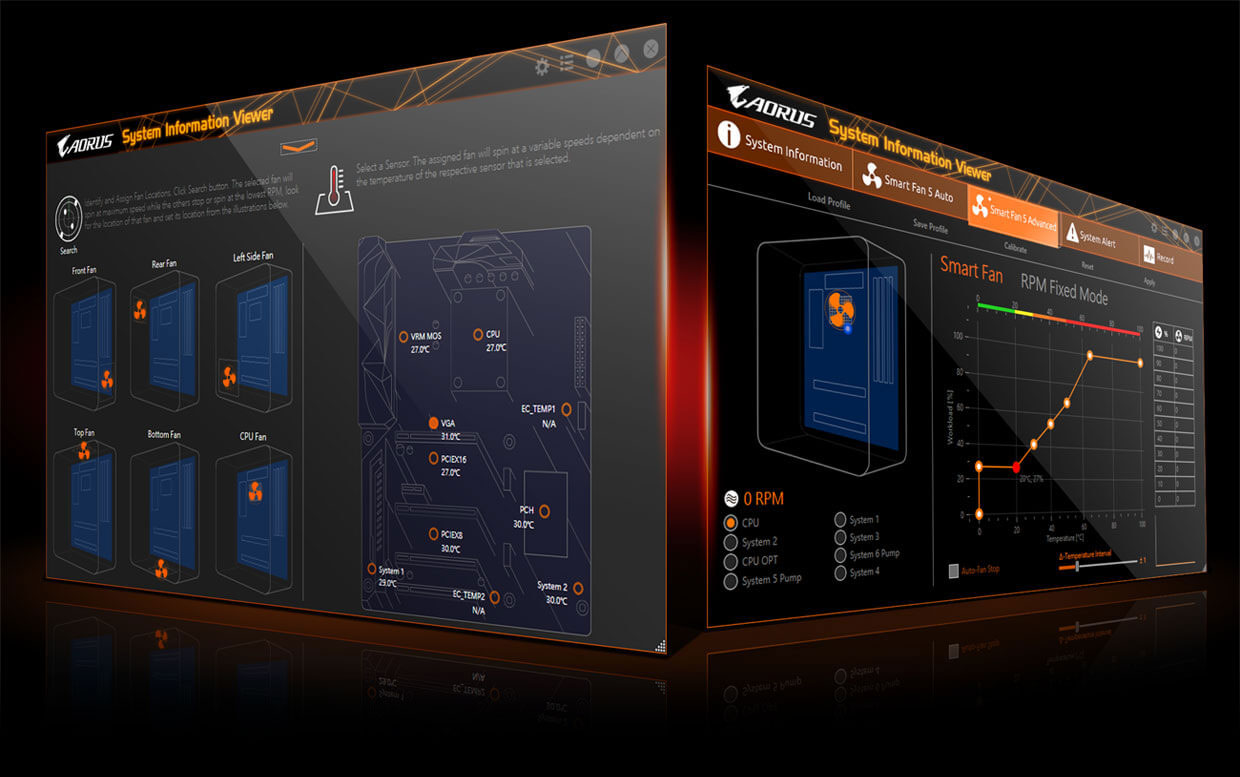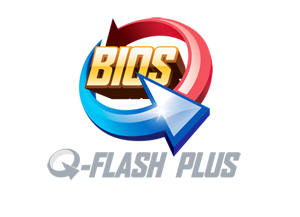 Q-Flash Plus
Update the BIOS easily without installing the CPU, memory and graphics card.

With GIGABYTE Q-Flash Plus, you don't need to install the CPU, memory and graphics card nor enter the BIOS menu to flash the BIOS. Just download and save a new BIOS file (rename to gigabyte.bin) on the USB flash drive, then press the dedicated Q-Flash Plus button and you're good to go!

Solid Pin Power Connectors
X570 AORUS motherboards feature solid plated ATX 24pin & ATX 12V 8pin + 8pin power connectors to offer a stable power supply during CPU overloading.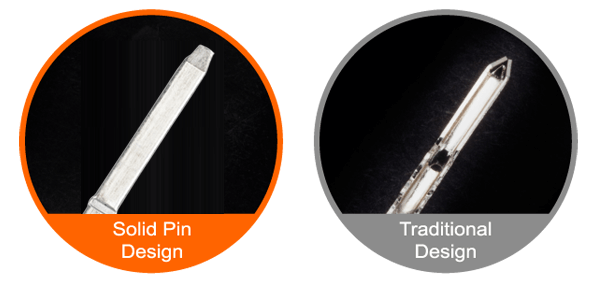 Solid Pin Power connector advantages
Larger contact area for electricity
More metal quantity to sustain higher power and generated heat
Ultra durable and longer lifespan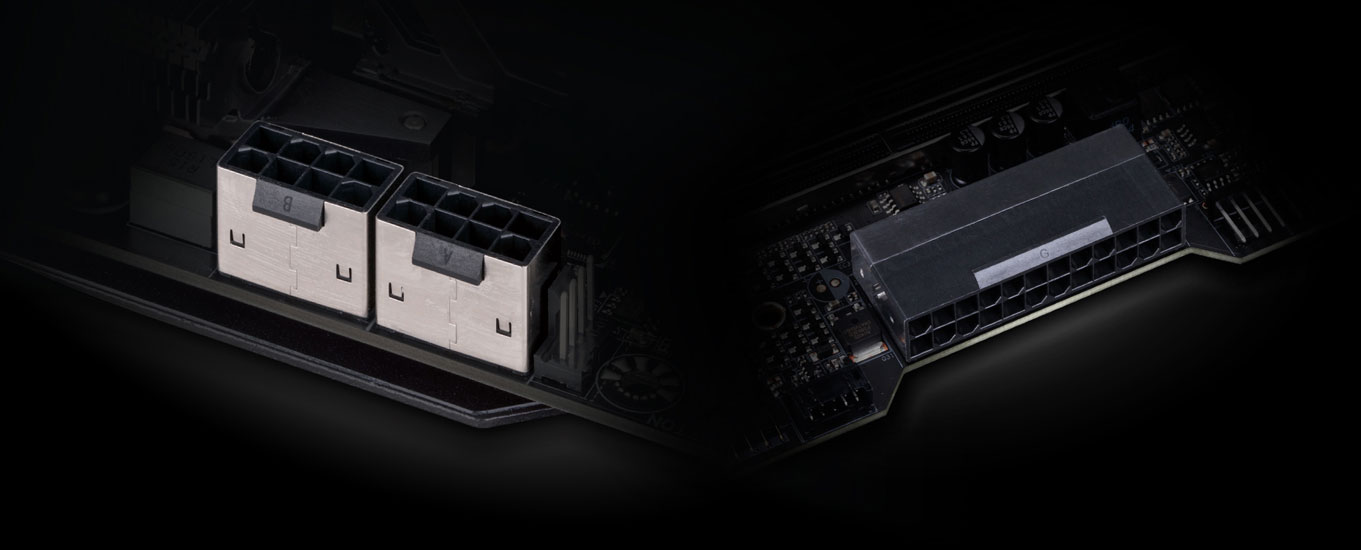 Ultra Durable™ PCIe Armor
Industry Leading Ultra Durable™ PCIe Armor
The innovative one piece stainless steel shielding design from GIGABYTE reinforces the PCIe connectors to provide the extra strength required to support heavy graphics cards.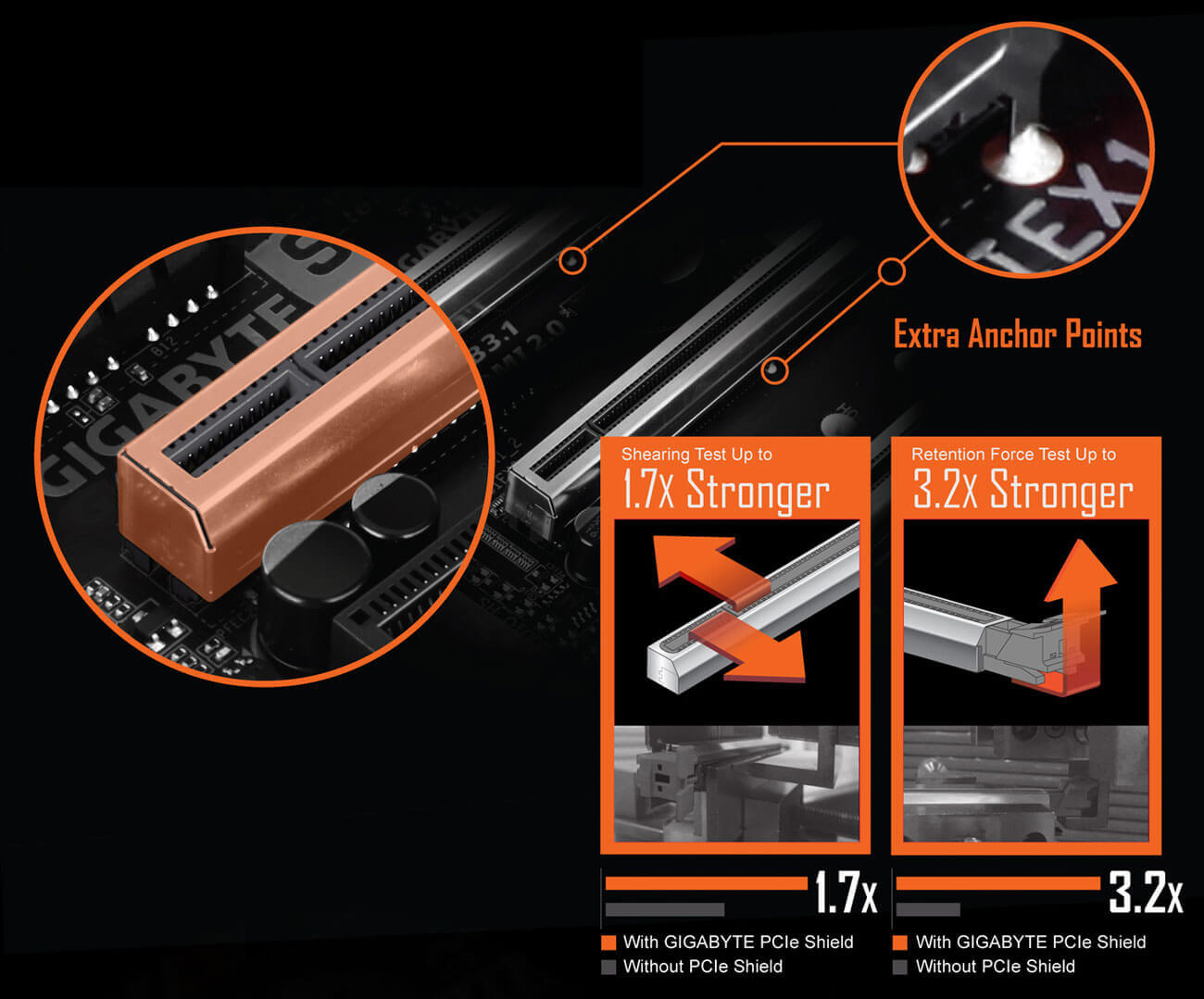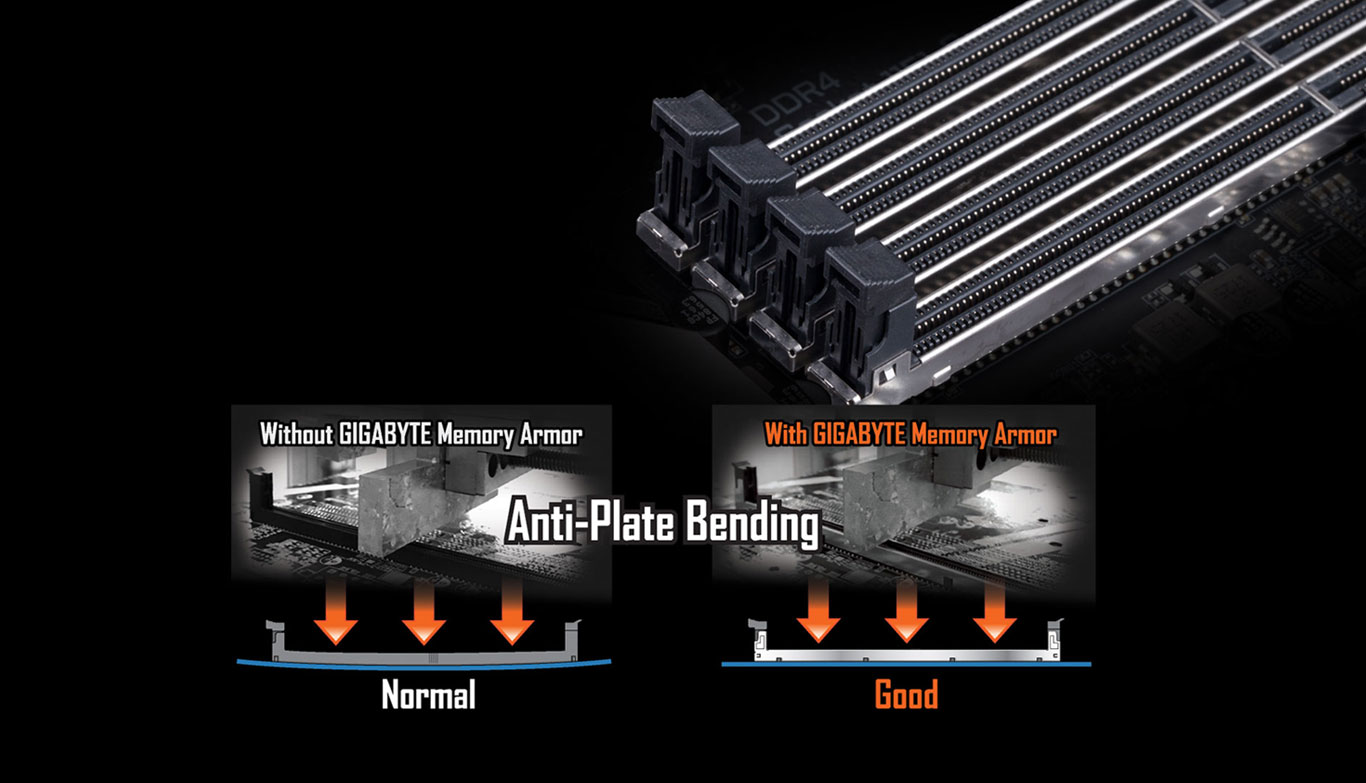 Ultra Durable™ Memory Armor
AORUS' exclusive one piece stainless steel shielding design prevents against PCB distortion/twisting and plate bending, in addition to preventing any possible ESD interference
GIGABYTE Patented Double Locking Bracket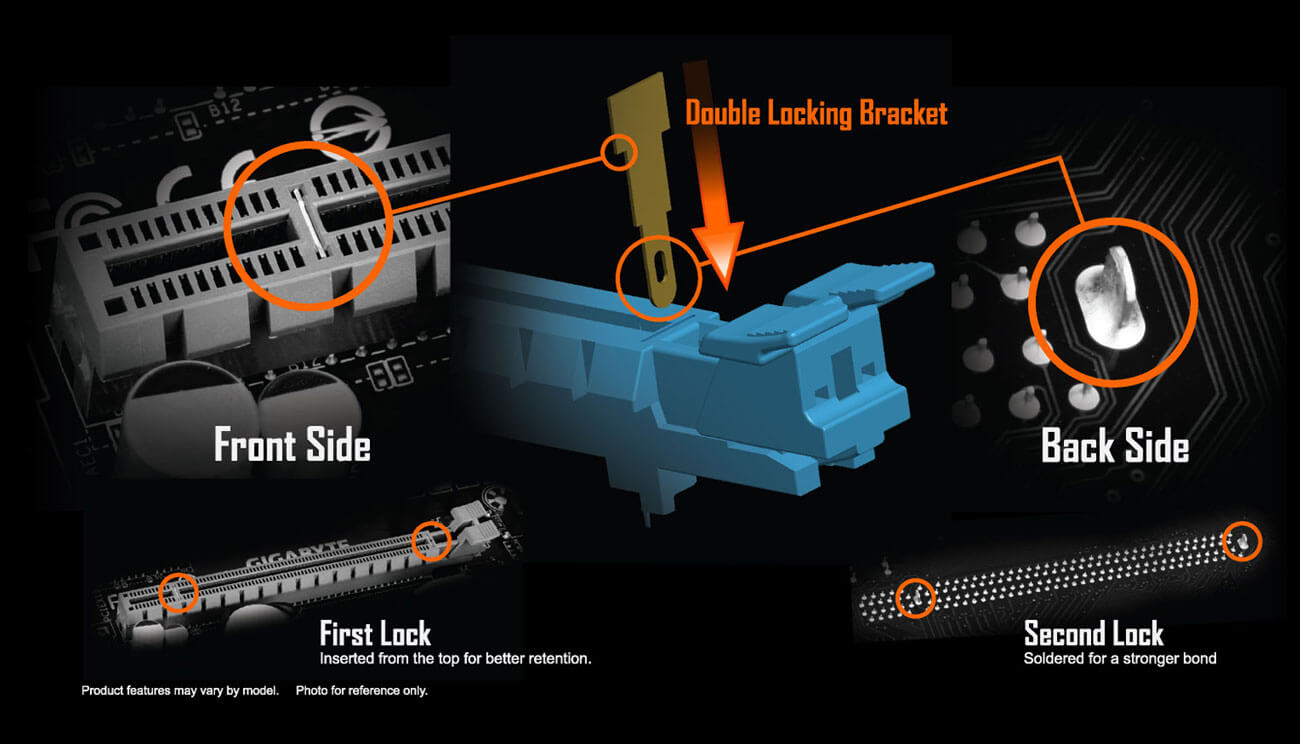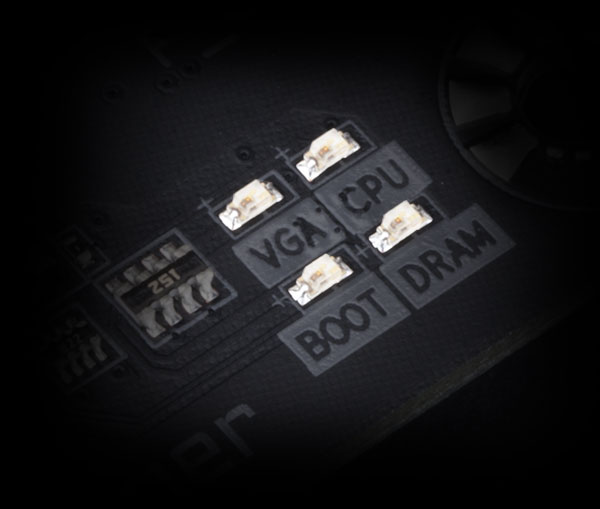 Diagnostic LEDs
Hardware Troubleshooting at a Glance
Onboard LEDs controlled by the system BIOS indicate if a malfunction is occurring, allowing users to quickly diagnose which major component (CPU/DDR/VGA/HDD) is malfunctioning so they may take action promptly.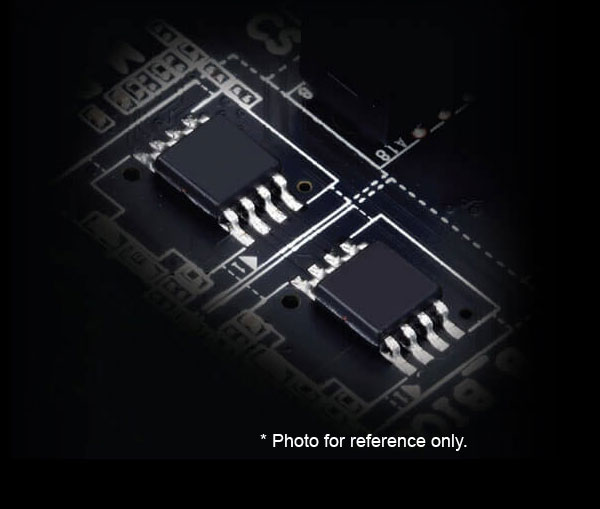 GIGABYTE Patented DualBIOS™ Design
GIGABYTE Ultra Durable™ motherboards feature GIGABYTE DualBIOS™, an exclusive technology from GIGABYTE that protects arguably one of your PC's most crucial components, the BIOS. GIGABYTE DualBIOS™ means that your motherboard has both a 'Main BIOS' and a 'Backup BIOS', protecting users from BIOS failure due to virus, hardware malfunction, improper OC settings or power failure during the update process.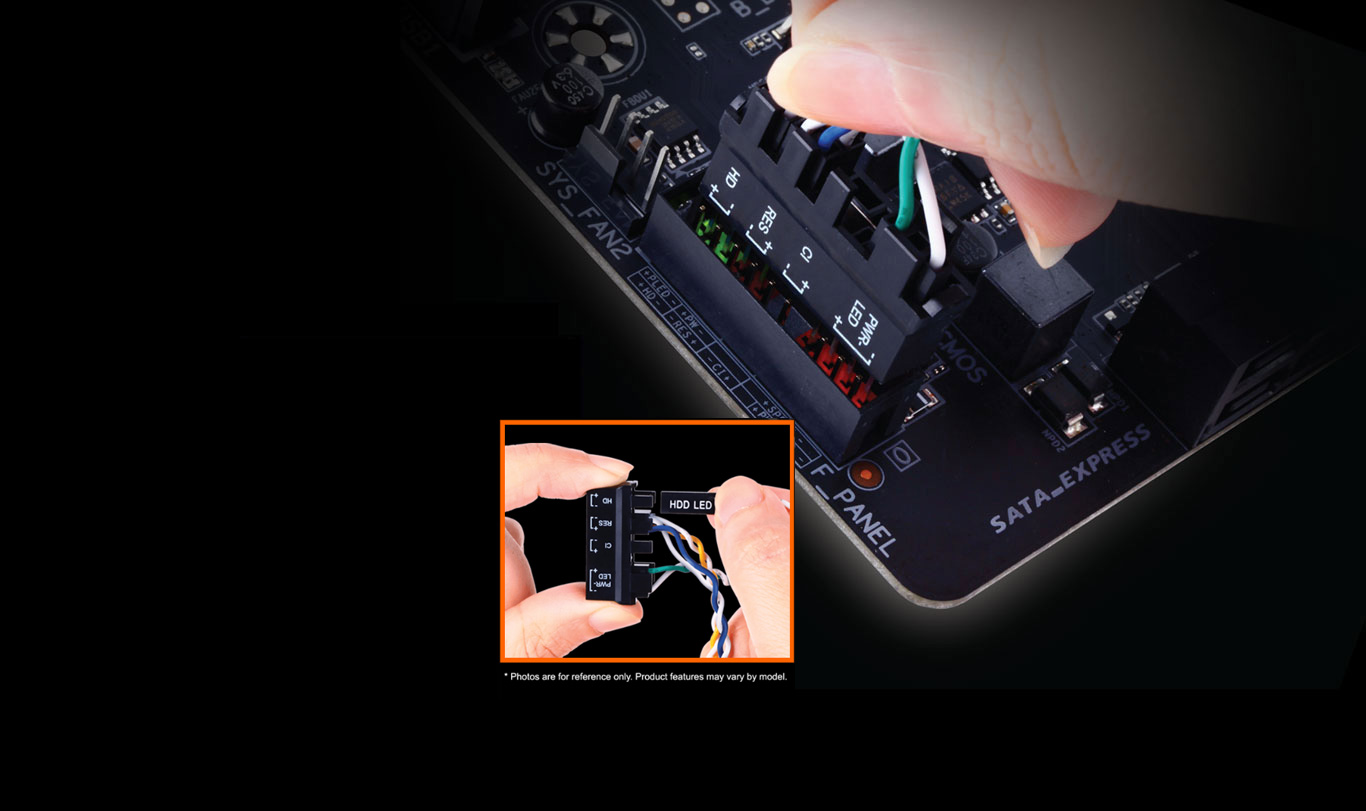 Easy to Install "G Connector" Design
The tiny cables of the front panel connectors can be hard to manipulate as space is restricted and indicators are tiny. With the G Connector, you can connect all the FP cables at once, simplifying the process of building your next PC and saving you frustration.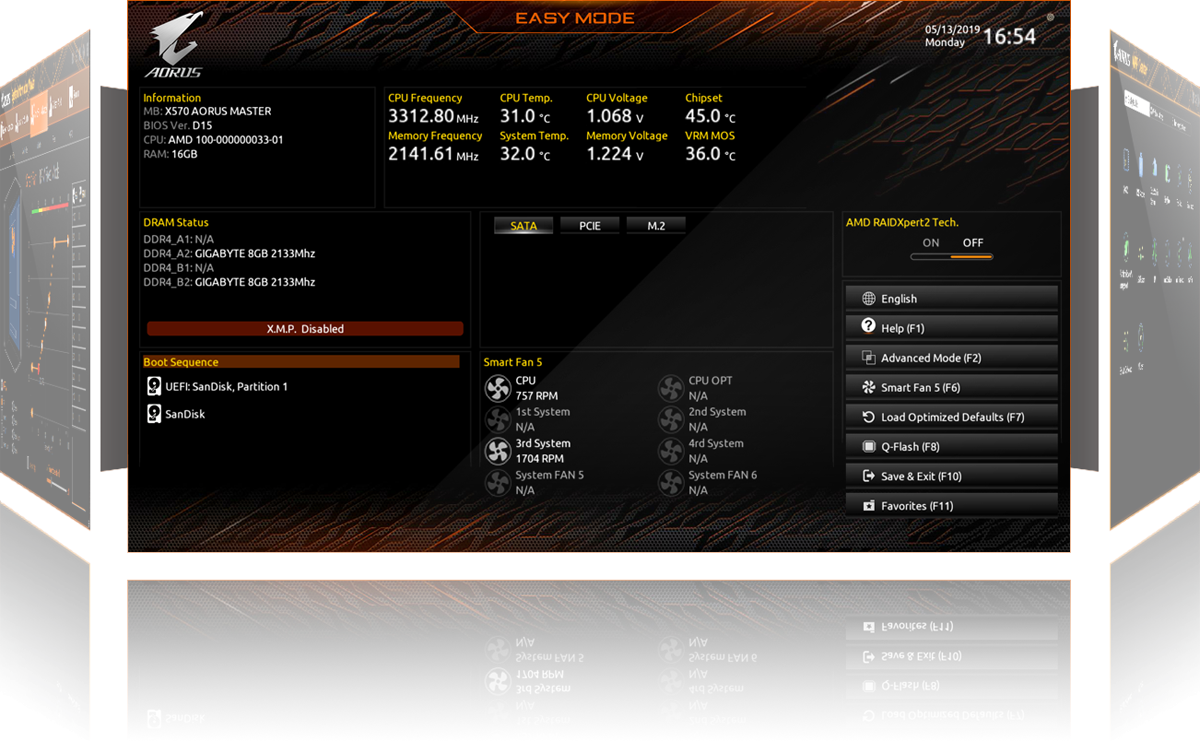 New User Interface
All new EASY MODE shows important hardware information in one page including CPU clock, Memory, Storage, Fan.
My Favorites
Add constantly used items into the favorite menu for quick access.
Storage Information
Show all kinds of storage information including SATA, PCIE and M.2 interface.
Changelog
List all changes before saving and exiting bios. Quickly review overall settings modification.
Optimized Memory Installation Reminder
Displays correct installation reminder message when user installs two memory modules but runs single channel mode.
Intuitive Load Line Curve
Clearly show each loadline calibration setting in an intuitive curve graph.
APP CENTER
GIGABYTE APP CENTER is a useful portal of all GIGABYTE MB utilities and drivers, you can choose any utility you want to install from APP CENTER and keep updated with the latest utilities and drivers version.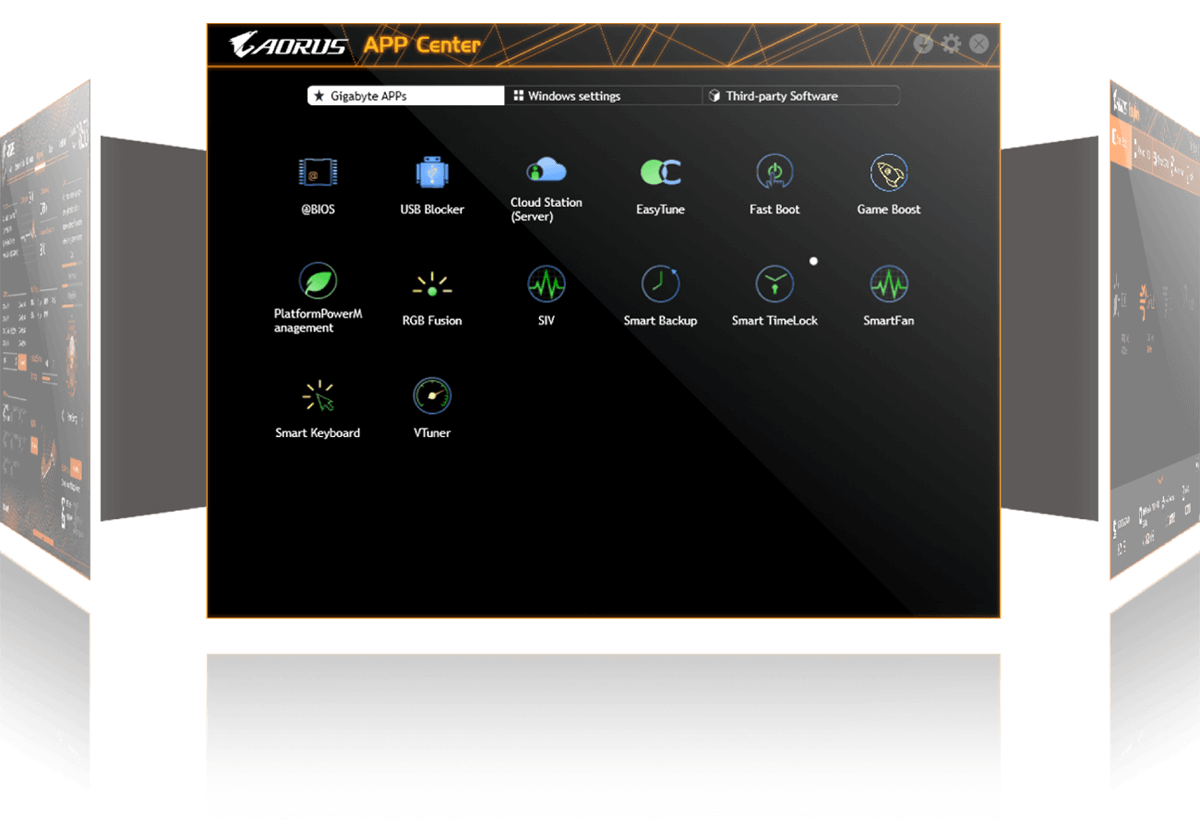 EasyTune
GIGABYTE's EasyTune™ is a simple and easy-to-use interface that allows users to fine-tune their system settings or adjust system and memory clocks and voltages in a Windows environment. With Smart Quick Boost, one click is all it takes to automatically overclock your system, giving an added performance boost when you need it the most.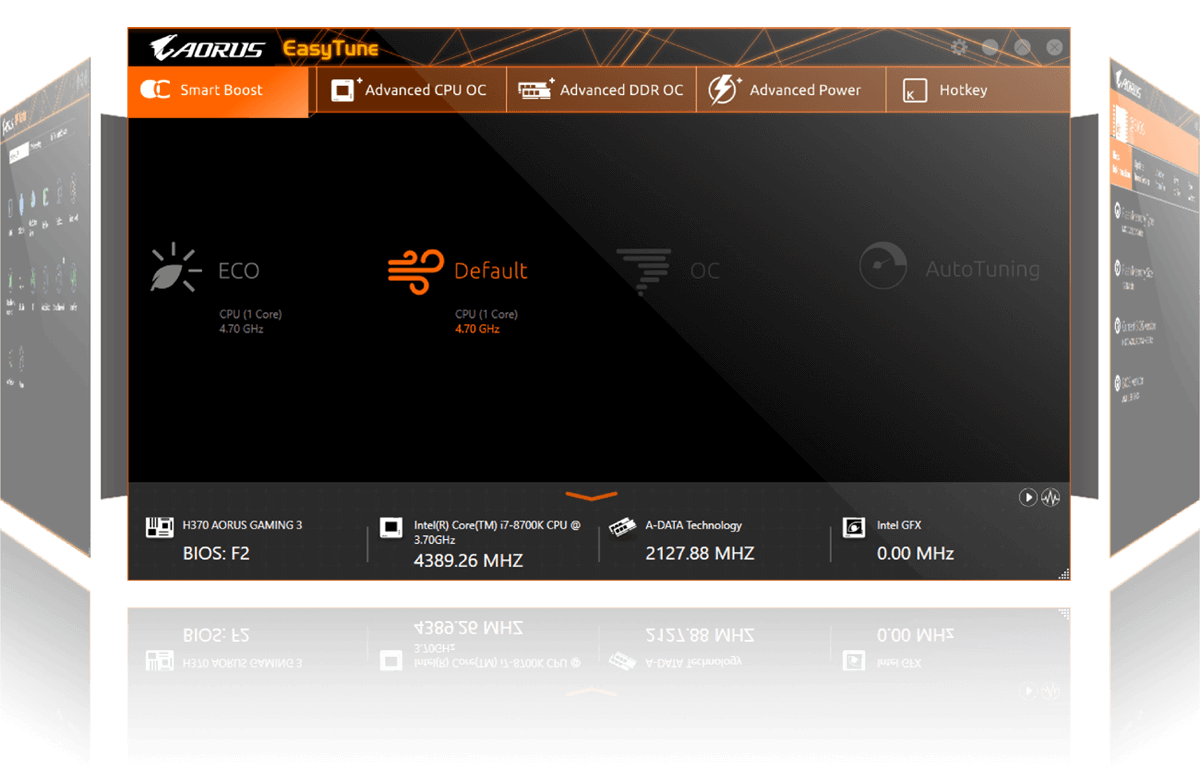 @BIOS
The GIGABYTE @BIOS app allows you to update your system's BIOS from within Windows using a simple and slick graphical user interface. @BIOS can automatically download the latest version from the GIGABYTE servers or you can update your BIOS from a file on your computer. @BIOS also allows you to save your current BIOS to a file, recover your previous BIOS from an image and backup your BIOS to an image.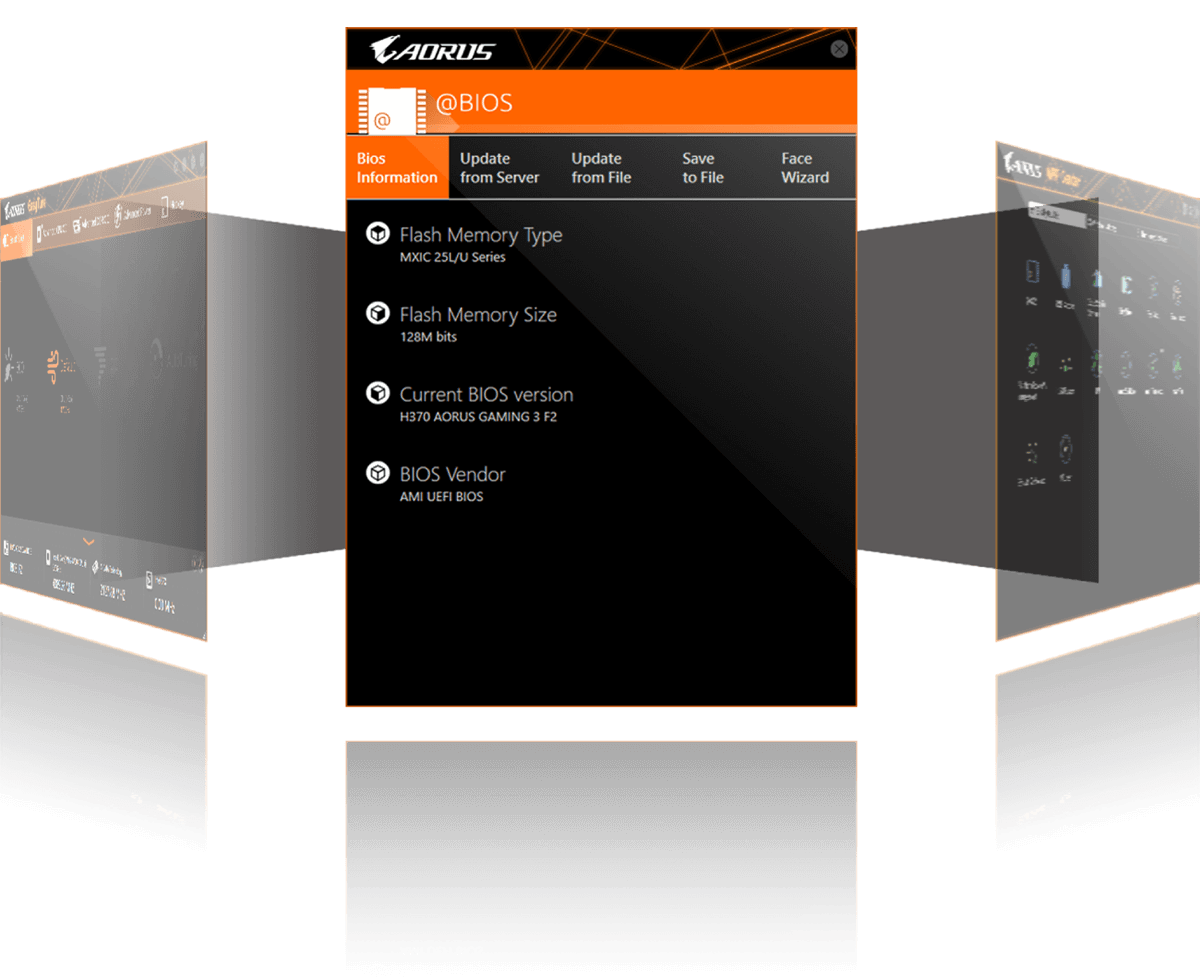 System Information Viewer
GIGABYTE System Information Viewer is a central location that gives you access to your current system status. Monitor components such as the clocks and processor, set your preferred fan speed profile, create alerts when temperatures get too high or record your system's behavior; these are the possibilities of the System Information Viewer.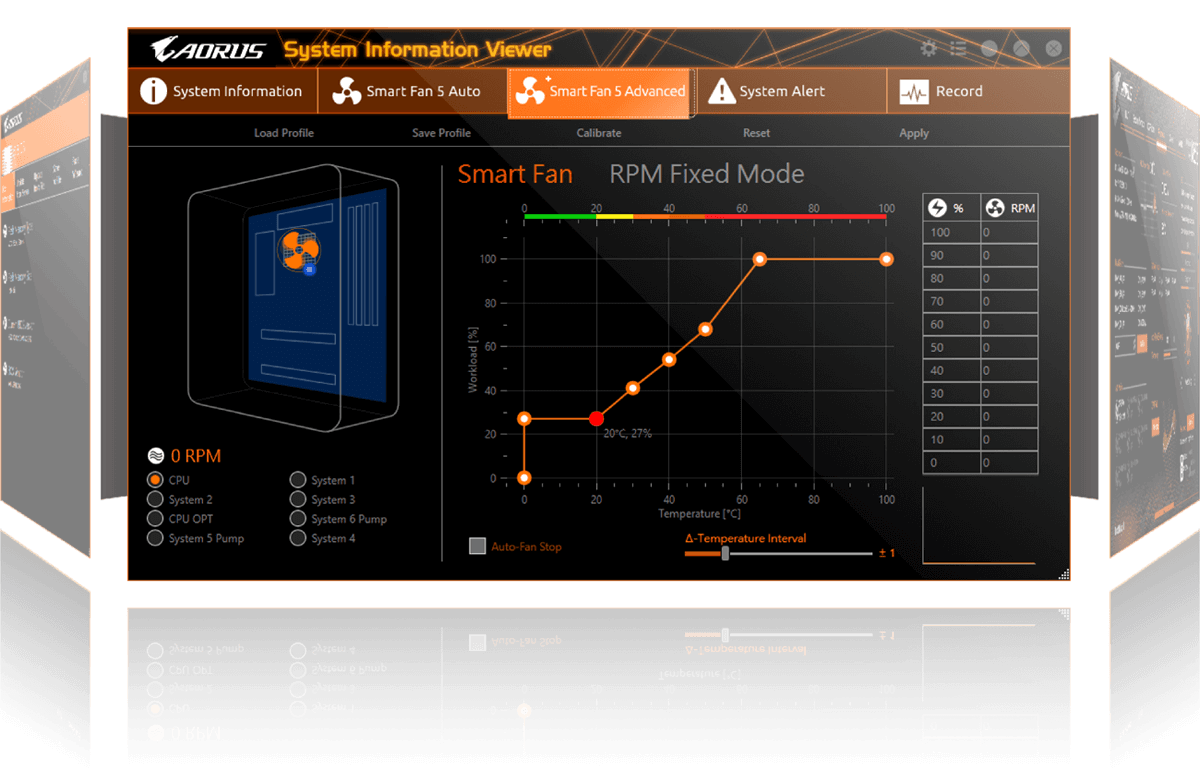 XSplit Gamecaster + Broadcaster: Cast Your Game Anytime, Anywhere
Now set up your stage and share the greatest gaming moments with XSplit Gamecaster + Broadcaster! Fully optimized social media integration is ready for real-time chats—keeping you notified yet focused in the game. It takes just one click to stream your gameplay to Twitch. Host your game like a pro!

* Free 1 year XSplit Gamecaster + Broadcaster Premium License.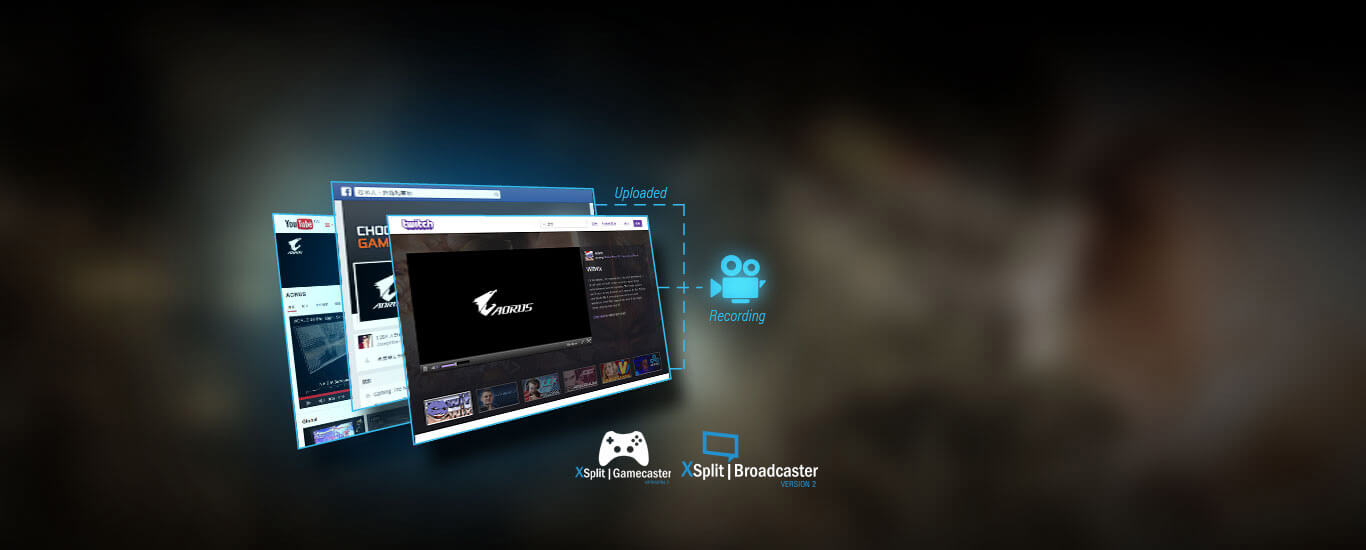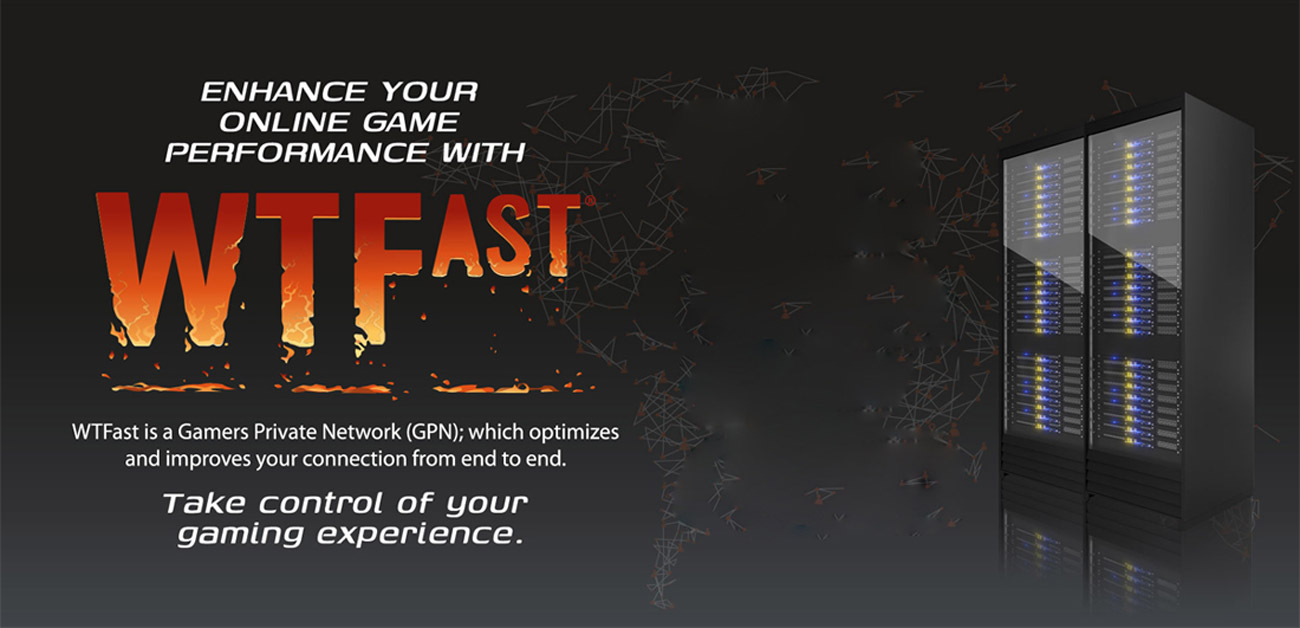 Enjoy 14-days FREE seamless connection to any game server in the world
Experience up to 60% overall connection improvement
Receive FREE unlimited access to PC Gaming Launchpad, supporting over 800 MMO games
Monitor your Game Ping and Connection Statistics continuously
Model

| | |
| --- | --- |
| Brand | GIGABYTE |
| Model | X570 AORUS ULTRA |
Supported CPU
CPU Socket Type

 

AM4
CPU Type
AMD Socket AM4, support for: Ryzen 5000 Series / 3rd Generation AMD Ryzen processors/2nd Generation AMD Ryzen processors / 2nd Generation AMD Ryzen with Radeon Vega Graphics processors/AMD Ryzen with Radeon Vega Graphics processors
* Support for Ryzen 5000 Series with BIOS UPDATE. Refer to GIGABYTE website for CPU support list.
Chipsets
Chipset

 

AMD X570
Memory
Number of Memory Slots
4×288pin
Memory Standard
3rd Generation AMD Ryzen processors:
Support for DDR4 4400(O.C.)/ 4300(O.C.)/ 4266(O.C.)/ 4133(O.C.)/ 4000(O.C.)/ 3866(O.C.)/ 3800(O.C.)/ 3733(O.C.)/ 3600(O.C.)/ 3466(O.C.)/ 3400(O.C.)/ 3333(O.C.)/ 3300(O.C.)/ 3200/ 2933/ 2667/ 2400/ 2133 MHz memory modules
2nd Generation AMD Ryzen processors / 2nd Generation AMD Ryzen with Radeon Vega Graphics processors / AMD Ryzen with Radeon Vega Graphics processors:
Support for DDR4 3600(O.C.)/ 3400(O.C.)/ 3333(O.C.)/ 3200(O.C.)/ 2933/ 2667/ 2400/ 2133 MHz memory modules
Maximum Memory Supported
128GB
Channel Supported

 

Dual Channel
Expansion Slots
PCI Express 4.0 x16
Integrated in the CPU (PCIEX16/PCIEX8):
3rd Generation AMD Ryzen processors:
1 x PCI Express x16 slot, supporting PCIe 4.0 and running at x16 (PCIEX16)
1 x PCI Express x16 slot, supporting PCIe 4.0 and running at x8 (PCIEX8)
2nd Generation AMD Ryzen processors:
1 x PCI Express x16 slot, supporting PCIe 3.0 and running at x16 (PCIEX16)
1 x PCI Express x16 slot, supporting PCIe 3.0 and running at x8 (PCIEX8)
* For optimum performance, if only one PCI Express graphics card is to be installed, be sure to install it in the PCIEX16 slot.
* The PCIEX8 slot shares bandwidth with the PCIEX16 slot. When using the 3rd Generation AMD Ryzen processors / 2nd Generation AMD Ryzen processors, the PCIEX16 slot operates at up to x8 mode.
2nd Generation AMD Ryzen with Radeon Vega Graphics processors / AMD Ryzen with Radeon Vega Graphics processors:
1 x PCI Express x16 slot, supporting PCIe 3.0 and running at x8 (PCIEX16)

Integrated in the Chipset (PCIEX4/PCIEX1):
1 x PCI Express x16 slot, supporting PCIe 4.0*/3.0 and running at x4 (PCIEX4)
* For 3rd Generation AMD Ryzen processors only.
PCI Express x1
2 x PCI Express x1 slots, supporting PCIe 4.0*/3.0
* For 3rd Generation AMD Ryzen processors only.
Storage Devices
SATA 6Gb/s

 

6 x SATA 6Gb/s
M.2
Integrated in the CPU (M2A_SOCKET):
3rd Generation AMD Ryzen processors:
1 x M.2 connector (Socket 3, M key, type 2242/2260/2280/22110 SATA and PCIe 4.0 x4/x2 SSD support)
2nd Generation AMD Ryzen processors / 2nd Generation AMD Ryzen with Radeon Vega Graphics processors / AMD Ryzen with Radeon Vega Graphics processors:
1 x M.2 connector (Socket 3, M key, type 2242/2260/2280/22110 SATA and PCIe 3.0 x4/x2 SSD support)

Integrated in the Chipset (M2B_SOCKET/M2C_SOCKET):
1 x M.2 connector (Socket 3, M key, type 2242/2260/2280/22110 SATA and PCIe 4.0*/3.0 x4/x2 SSD support) (M2B_SOCKET)
* For 3rd Generation AMD Ryzen processors only.
1 x M.2 connector (Socket 3, M key, type 2242/2260/2280 SATA and PCIe 4.0*/3.0 x2 SSD support) (M2C_SOCKET)
* For 3rd Generation AMD Ryzen processors only.
SATA RAID
0/1/10
Onboard Video
Onboard Video Chipset

 

Integrated Graphics Processor:

1 x HDMI port, supporting a maximum resolution of 4096x2160@60Hz
* Support for HDMI 2.0 version, HDCP 2.2, and HDR.

Maximum shared memory of 16GB

* For 2nd Generation AMD Ryzen with Radeon Vega Graphics processors / AMD Ryzen with Radeon Vega Graphics processors only.
Onboard Audio
Audio Chipset

 

Realtek ALC1220-VB
* The back panel line out jack supports DSD audio.
Audio Channels

 

2/4/5.1/7.1-channel
Support for S/PDIF Out
Onboard LAN
LAN Chipset
Intel GbE LAN chip
Max LAN Speed
10/100/1000Mbps
Wireless LAN
Wi-Fi 802.11 a/b/g/n/ac/ax, supporting 2.4/5 GHz Dual-Band
Support for 11 ax 160 MHz wireless standard and up to 2.4 Gbps data rate
* Actual data rate may vary depending on environment and equipment.
Bluetooth
BLUETOOTH 5.0
Rear Panel Ports
Back I/O Ports
2 x SMA antenna connectors (2T2R)
1 x HDMI port
1 x USB Type-C port, with USB 3.2 Gen 2 support
1 x USB 3.2 Gen 2*/Gen 1 Type-A port (red)
* For 3rd Generation AMD Ryzen processors only.
1 x USB 3.2 Gen 2 Type-A port (red)
3 x USB 3.2 Gen 1 ports
4 x USB 2.0/1.1 ports
1 x RJ-45 port
1 x optical S/PDIF Out connector
5 x audio jacks
Internal I/O Connectors
Onboard USB
1 x USB Type-C port, with USB 3.2 Gen 2 support
2 x USB 3.2 Gen 1 headers
2 x USB 2.0/1.1 headers
Other Connectors
1 x CPU fan header
1 x water cooling CPU fan header
3 x system fan headers
2 x system fan/water cooling pump headers
2 x addressable LED strip headers
2 x RGB LED strip headers
1 x CPU cooler LED strip/RGB LED strip header
1 x front panel header
1 x front panel audio header
1 x Trusted Platform Module (TPM) header (2x6-pin, for the GC-TPM2.0_S module only)
1 x Clear CMOS jumper
2 x temperature sensor headers
1 x Q-Flash Plus button
Physical Spec
Form Factor
ATX
LED Lighting
RGB
Dimensions (W x L)
12.0" x 9.6"
Power Pin
1 x 24-pin ATX main power connector
1 x 8-pin ATX 12V power connector
1 x 4-pin ATX 12V power connector
Features
Features
Multi-Graphics Technology:
Support for NVIDIA Quad-GPU SLI and 2-Way NVIDIA SLI technologies
Support for AMD Quad-GPU CrossFire and 2-Way AMD CrossFire technologies
* For 3rd Generation AMD Ryzen processors / 2nd Generation AMD Ryzen processors only.

I/O Controller:
iTE I/O Controller Chip

H/W Monitoring:
Voltage detection
Temperature detection
Fan speed detection
Water cooling flow rate detection
Overheating warning
Fan fail warning
Fan speed control
* Whether the fan (pump) speed control function is supported will depend on the fan (pump) you install.

BIOS:
2 x 128 Mbit flash
Use of licensed AMI UEFI BIOS
Support for DualBIOS
PnP 1.0a, DMI 2.7, WfM 2.0, SM BIOS 2.7, ACPI 5.0

Unique Features:
Support for APP Center
* Available applications in APP Center may vary by motherboard model. Supported functions of each application may also vary depending on motherboard specifications.
@BIOS
AutoGreen
Cloud Station
EasyTune
Fast Boot
Game Boost
ON/OFF Charge
RGB Fusion
Smart Backup
Smart Keyboard
Smart Survey
System Information Viewer
USB Blocker
Support for Q-Flash Plus
Support for Q-Flash
Support for Xpress Install

Bundled Software:
Norton Internet Security (OEM version)
cFosSpeed
XSplit Gamecaster + Broadcaster (12 months license)

Operating System:
Support for Windows 10 64-bit
Additional Information

| | |
| --- | --- |
| Date First Available | July 07, 2019 |